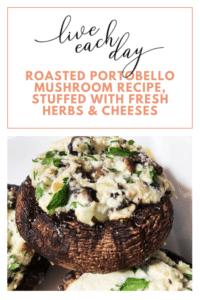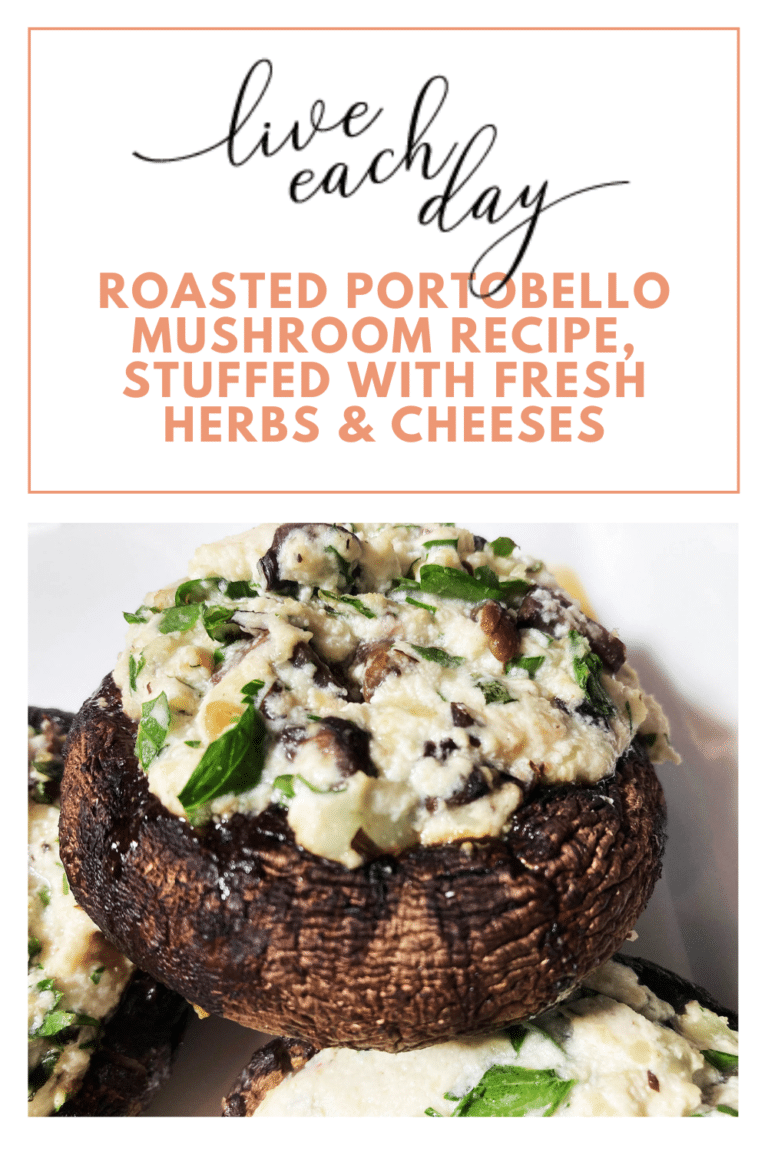 There is something soul nourishing about an earthy portobello mushroom, stuffed with a mixture of creamy cheeses and fresh herbs. These roasted portobellos are delicious and even better – you can prepare them in only 25 minutes, so add them to your "easy recipes" file. The stems are sauteed with garlic and combined with the cheese mixture – so not an ounce of the mushroom-y goodness is wasted. Since bread crumbs are not used in this recipe, they are low carb. Cheeses add protein to the meal. This portobello mushroom recipe is my favorite way to enjoy stuffed portobellos.
This stuffed roasted portobello mushroom recipe is a great accompaniment to a multitude of main courses. You can also serve them as an appetizer for a dinner party or as a meatless dinner main dish with a salad. Roast them in the fall and winter or grill them in the summertime. This recipe only takes a few simple ingredients, a couple simple steps, and can be on the table in 25 minutes.
Mom-hack
Until I made this recipe, I was the only one in my family who would eat mushrooms. This cheesy, flavorful stuffed portobello mushroom recipe converted by 13-year old son into a stuffed mushroom lover! Bonus points for mom!
Sometimes as mothers we forgo foods that we enjoy because we don't want to take the time to make something only we will eat. My strategy is to cook a main course and side dish that my whole family will eat. When I have the time, I cook another side dish that I love with the hope that someone will want to try something new. Although this means preparing a couple of side dishes, this is a good use of time for a couple reasons.
First, this food strategy has worked for me on so many occasions. My kids see new foods continually and eventually they want to try them. It warms my heart when the kiddos see something they've never tried before and actually ASK to try a bite or two. Tonight that resulted in my son asking to try half a stuffed mushroom, loving it and then requesting the other half! Boom. My son now loves this roasted portobello mushroom recipe. This is one way to eventually (with resolve, steadfastness and patience) develop your children's palate. It may take quite some time (I mean my son is 13), but it's a strategy that works to expand your child's food preferences over time.
Second, it often means having leftovers you can use for your children's lunch boxes. Making extra side dishes helps to meal prep in advance for other meals during the week. It truly doesn't take a lot of time and the benefits are well worth it.
How to prep a portobello mushroom
Twist off the stem, but be sure to reserve for this recipe.
Remove the gills by scraping around the edges of the cap using a spoon and discard. While the gills are edible, they contain bits of dirt and who wants to eat that?
Using a damp paper towel, clean off the dirt on all sides of the mushroom cap. Clean the stems the same way when using them in the recipe. A damp paper towel is preferable to a dry one, as it removes the dirt without removing any of the flavor.
Nutrition Facts
Mushrooms are rich in antioxidants and full of vitamins and minerals. They are low in carbohydrates and calories, making them an important part of a healthy, nutricious diet. The list of micronutrients in mushrooms is long – they contain a good amount of vitamin B3, B5 and B6, vitamin C, copper, phosphorus, magnesium, potassium and zinc. This recipe packs an added nutritional punch with a high dose of vitamin A, calcium and protein from the cheeses.
By using part skim vs. whole milk ricotta cheese, it reduces the level of calories and fat, but ricotta is high in fat and saturated fat, so if you are watching your fat intake and cholesterol, you can consider substituting fat-free ricotta for the part-skim. This does come with a downfall. Fat free ricotta does not have the rich, creamy flavor of part-skim ricotta, so you will lose some of the flavor in this recipe with this substition. To make up for that, add a bit more garlic and use the red pepper flakes.
If sodium is a concern for you, reduce the amount of kosher salt used in this recipe.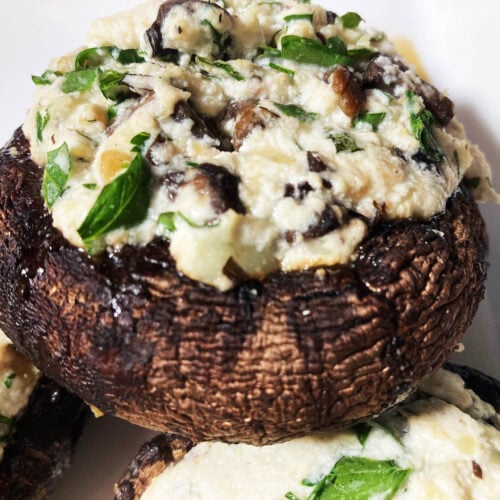 Roasted Portobello Mushroom Recipe, Stuffed with Fresh Herbs & Cheeses
Ingredients
4

large portobello mushroom caps

1

cup

part skim ricotta cheese

1/2

cup

shredded mozzarella / provolone cheese mix

1/8

cup

parmesan cheese

1/2

tsp

kosher salt, divided

fresh cracked pepper

1/2

cup

fresh minced Italian herbs – basil, oregano and parsley

only use fresh

1

garlic clove, minced

red pepper flakes (optional)

use for extra flavor and spice

2

tbsp

extra virgin olive oil, divided
Instructions
Prep:
Clean portobello mushroom caps using instructions above

Remove stems and chop, set aside
Directions:
If roasting, preheat oven to 375 degrees or start your grill if grilling the mushrooms.

Clean the mushroom caps with a damp paper towel by wiping any dirt off them.

Remove stems and save stem pieces. Chop stems and set aside.

Drizzle 1 tbsp olive oil on mushroom caps, toss mushrooms in the oil, and rub oil on both the outside and inside of the cap.

Sprinkle 1/4 tsp kosher salt and a couple turns of fresh ground pepper on the mushrooms.

Empty caps can either be roasted at 375 degrees for 7 minutes or grilled for 3 minutes per side.

Place the caps gill-side down if roasting. If grilling, they will be grilled on each side.

When the initial cooking process is complete, it's a good idea to empty any liquid that has pooled in the cap. You don't want too much moisture left in the portobello caps when you stuff them.

Meanwhile sauté the chopped stems in 1 tbsp olive oil with minced garlic clove for approximately 7-9 minutes until stems are reduced and fully cooked.

While cooking sprinkle with a dash of kosher salt and freshly cracked black pepper. If you like a bit of extra spice and have chosen to use the optional red pepper flakes, sprinkle and sauté with the stems and garlic.

In a small bowl, combine the ricotta cheese, shredded mozzarella/provolone cheese, parmesan cheese, fresh herbs and ¼ tsp kosher salt and a few turns of freshly ground pepper.

Once the sautéed stems and garlic mixture is cooked and cooled, combine with the cheese mixture.

Stuff the roasted / grilled mushroom caps.

Place mushroom caps on a rimmed baking sheet with aluminum foil for easy cleanup and return to the oven (or grill) for 5 minutes until the mushrooms are warmed through and golden brown.

Or if you used the grill and don't want to start your oven, you can return the stuffed mushrooms to the grill for 5 minutes to warm through.
Notes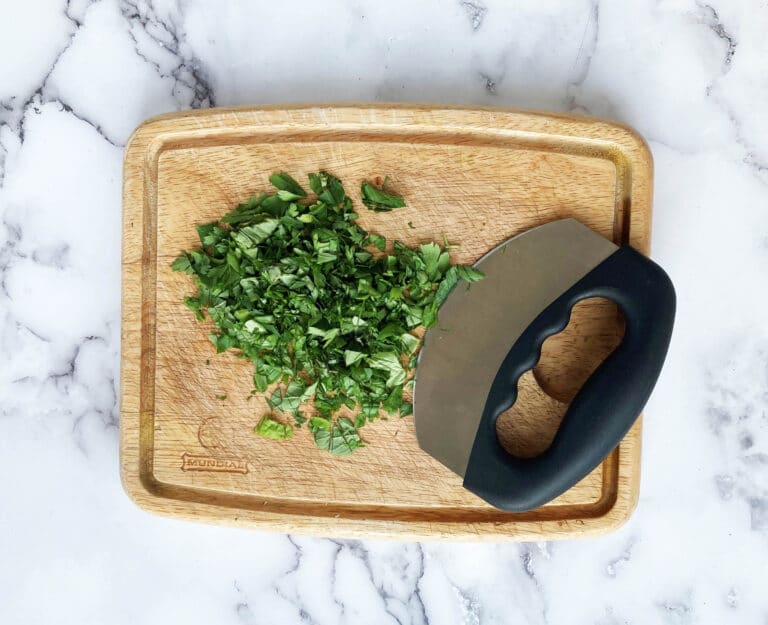 Chop a mixture of fresh Italian herbs – basil, oregano and parsley.
Nutrition Facts
Roasted Portobello Mushroom Recipe, Stuffed with Fresh Herbs & Cheeses
Amount per Serving
% Daily Value*
* Percent Daily Values are based on a 2000 calorie diet.