Are you a working mom looking for ways to make extra money? This list of side hustles for working moms will give you plenty of ideas to make extra money while doing something you love.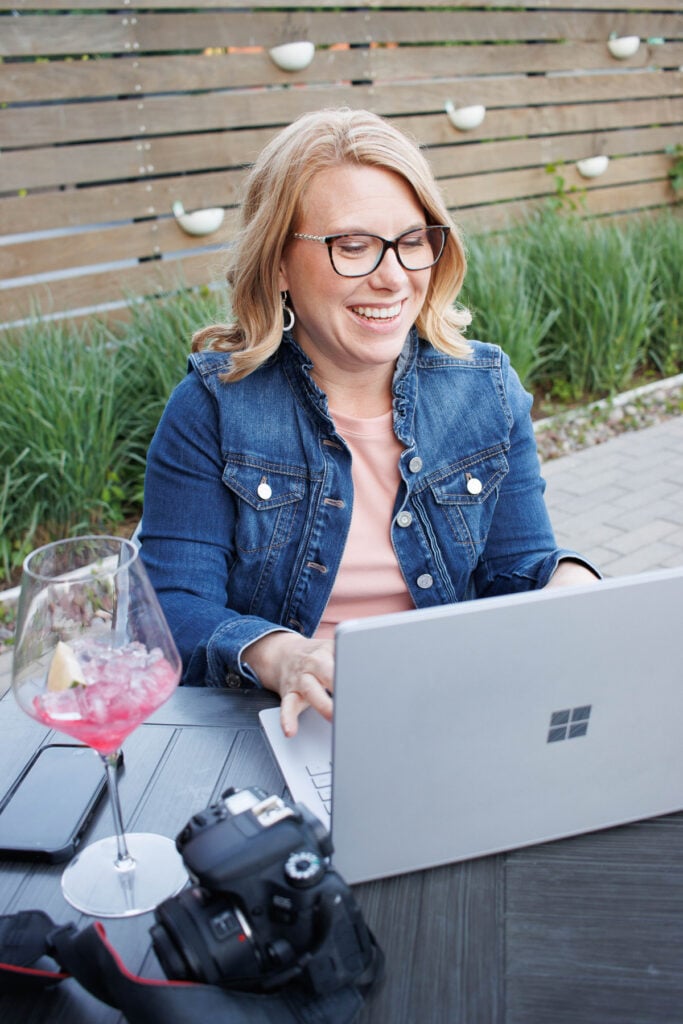 There are so many ways to make money from a passion, interest, knowledge, or skill you have so you can eventually consider ditching the 9-5 grind. Check out this list of side hustles for working moms.
Work doesn't have to be boring and unfulfilling. As of this writing, 68% of employees are disengaged with their work. For working moms in this 68%, that means they are utterly burned out.
Does this resonate with you as a working mom?
You work very hard at your day job, but it leaves you feeling unfulfilled. Between the hours and the demands, it can sometimes feel downright thankless.
You then race home to take care of your family, your home, and numerous other commitments. You are continuously giving of yourself to others.
You might be racing off to sporting events for your kids, scrambling to make a healthy dinner and get everyone fed somewhere in between all of the evening activities.
At the end of the day when all the kids are tucked into bed, you are doing laundry and preparing for the next day. TO.DO.IT.ALL.OVER.AGAIN.
This leaves very little time for pursuing your own passions and interests, yet there is a burning desire inside you to have more time for yourself to do the things you enjoy. You also want more time to enjoy with your family without all the rushing.
One answer to this never ending cycle of madness is to identify a way to make money doing something you love. It can begin as a side hustle at first that we work on a little bit at a time.
I know what you're thinking – how on earth could I possibly fit one more thing into my life?
Hear me out…
If we build a side hustle strategically, it will generate passive income in the future, after the initial investment of time up front. By being business savvy and strategic about starting a side hustle, you can spend time each week working on something you are passionate about. Something that is fulfilling to you – something you enjoy doing anyway. After the initial investment of time, eventually you can make very good money doing the thing you love.
It may feel overwhelming to think about putting something else on our plate because we already have very little time in our busy, hectic, very full days.
As a working mom, who has managed a full-time executive career, 3 children who all have busy, active lives (including numerous sports and extra-curricular activities), along with building a side hustle, I am intimately familiar with the challenges that working moms face. I've written this article knowing just how challenging it can be to add one more thing to an already overflowing plate.
But I'm also here to tell you that it's possible.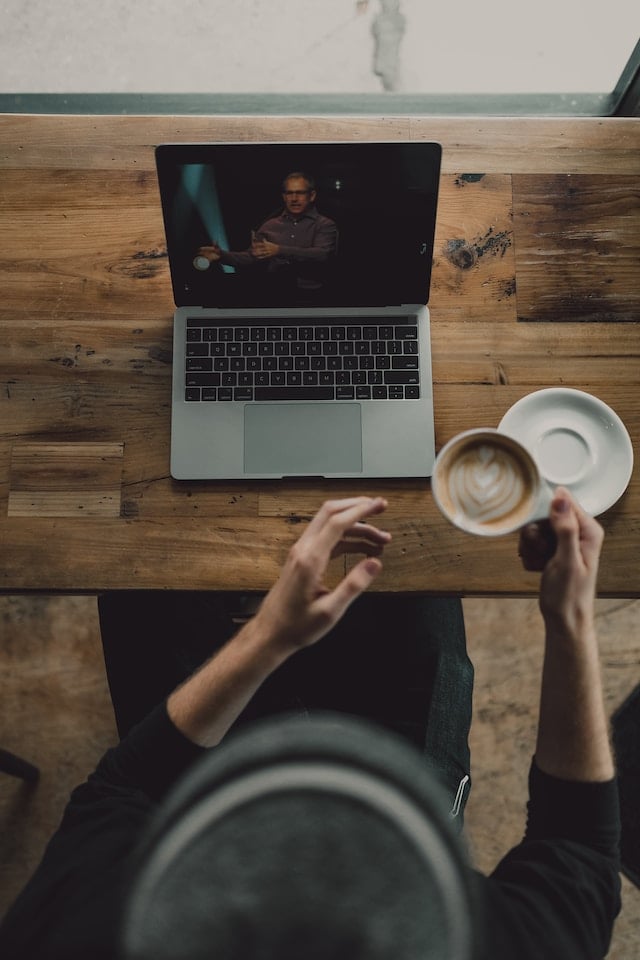 Think Strategically
If you can identify the right side hustle for you, then you can invest time into yourself, do something you enjoy, and make some extra cash while doing it. Over time, it can become a lucrative side gig.
Building my side hustle has been one of the most fulfilling and rewarding experiences of my lifetime (aside from being a mom).
In full honesty, there was a period of my life after 20+ years in my professional career and the hectic pace of raising 3 children, that I began to feel like I was losing myself. I wrote more about women losing ourselves during the Messy Middle of Life in The Elephant Journal.
When I strategically started a side hustle that combined my 20 years of business experience with the passions I longed to spend more time on, I began to slowly walk back to myself. I became a person I recognized again. Turning a side hustle into a way of making extra money while doing something I love allows me to feel like myself again.
I have a MBA and 20 years of experience in business, yet I was investing all of my energy into working for someone else. I was longing for days filled with more creativity – days spent writing, cooking, and creating. By identifying a way to not only make time for my passions, but ALSO make money from them, I paved the way to a different future.
As a busy working mom, I know we don't have a lot of free time. Listen, building a side hustle as a working mom isn't for the faint of heart. You do need to want it. You need to WANT to redesign your life. It does require commitment to take small steps each day toward a new and improved life.
Ok, having said that…here are some side hustles for busy, working moms…let's do this.
These great ideas will help you start an online business and grow a profitable side hustle that has the potential to grow and scale to generate passive income over time.
I know as a working mom who perhaps already has a full-time job, you have a busy schedule and not a lot of spare time. These side hustles for working moms are specifically chosen because they build passive income streams over time. If we're investing our precious time, we want that time invested wisely right? We want a very good return on investment.
Once you read about these side hustle ideas, next see which one might be a good fit for your personality, skills, and interests by taking this quiz called – What Kind of Online Business Should I Create?
For some of the best side hustles to earn passive income, read on to see which one sparks your interest the most.
Side Hustle for Working Moms – Idea #1
Become a Content Creator
Ok mamas, becoming a content creator isn't just for all the kiddos out there looking to become the next YouTube star. There are so many different directions you can take this side hustle opportunity.
First, let's talk about the different mediums for content:
Written content – If you like to write, you can start your own blog.
Audio content – If you are a chatty Cathy and like to talk, you could launch a podcast.
Video content – If being on video is your thing, you can start a YouTube channel.
Visual content – If you are a photographer, you can take pictures, and then sell the license to other publications to use them.
Social media platforms – While you can become a content creator using social media, I strongly suggest using social media to supplement one of the other content strategies. You want to use social media marketing to grow your business over time, but you want your primary content medium to be one that you own. You do not want to build your business on "rented land". If you only create content on a social media platform (Facebook, Instagram, TikTok, etc.), then you are at the whim of those platforms' algorithms. While having a social media presence undoubtedly will help to grow your business, I recommend against using social media as your primary content strategy. Instead, let it be a supplemental one.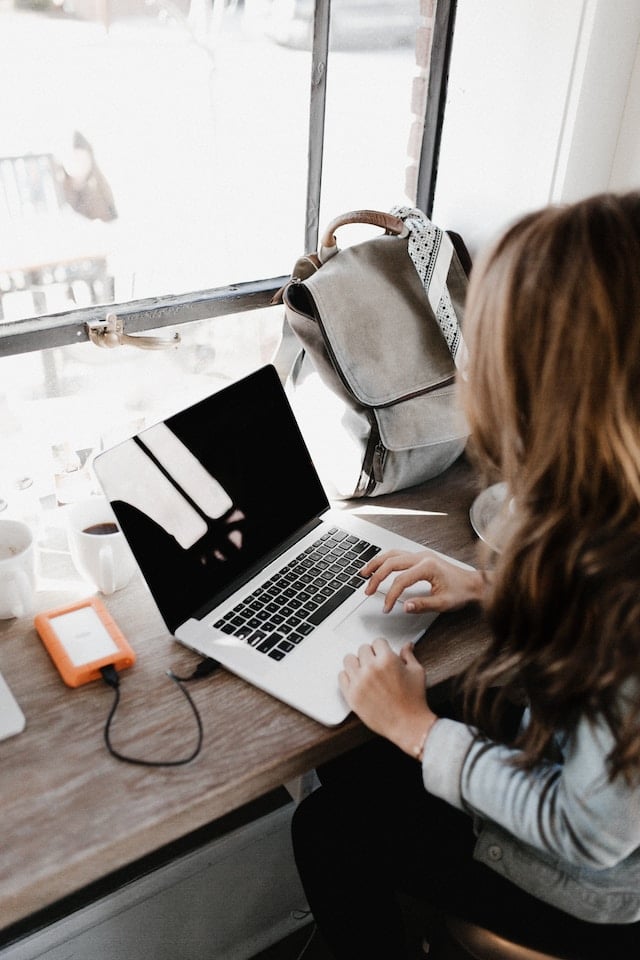 Next, let's talk about your content topic!
There are blogs, podcasts, and YouTube channels on every topic under the sun. If you can dream it, and there is a market for that type of content, then you can do it. Think about it – the options are limitless – food and recipes, home design and decoration, home organization, home schooling, mindful living, mental wellness, nutrition and exercise, productivity and goals, personal development.
There are legal blogs with digital downloadable templates and personal finance blogs, podcasts, and YouTube channels. There are blogs about pet ownership, and elderly caretaking, and relationships, and business and finance, parenting, fashion and beauty, gardening and travel.
You will find YouTube channels, podcasts, and blogs about everything from starting a business to Pokemon – the same creator has actually created both of these!
Content creators make money through a number of ways including:
Advertising on their platform (website for bloggers, videos for YouTube channels, or podcast for podcast hosts). Once you gain a certain level of traffic to your blog, podcast, or YouTube channel, you can run advertising on your platform and earn passive income just from the traffic and audience you've generated with your content.
Affiliate marketing – you can include affiliate links in blog posts, or YouTube videos and notes, or in podcast episodes and show notes. With affiliate marketing, you earn commissions when you recommend products that you use and enjoy.
Sponsorships – with sponsorships, you work with brands to promote their products or services in your content.
Your own digital products or services – Content creators often diversify their revenue streams by adding one or more of these next side hustle ideas as additional income opportunities.
Learn more by taking my free training called, Make Money Doing Something You Love.
Side Hustle for Working Moms – Idea #2
Provide Virtual Services
Almost any high demand service can be provided virtually in this modern digital world. From the comfort of your own home, you can build an online business providing the same or similar services you are providing in your day job.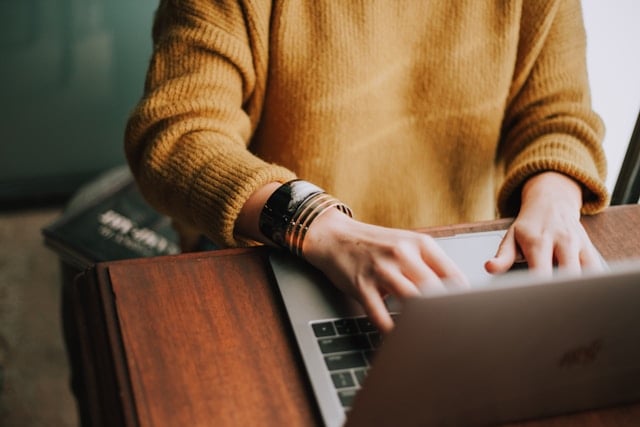 Here are just a handful of virtual service ideas to get your ideas flowing. You could:
Provide administrative services as a virtual assistant (VA) performing administrative tasks
Offer freelance writing services as a freelance writer (copywriting services, technical writing, creative writing, writing blog posts for other businesses)
Be a social media manager and manage other businesses' social media accounts
Perform data entry for other online businesses
Be a graphic designer and offer graphic design services
Provide customer service and support for other businesses
Offer SEO (search engine optimization) services
Provide accounting and bookkeeping services
Offer legal advisement services
Use any special skills you have to offer virtual services
You may already have an idea of where you can find potential clients for your virtual services if you think about your current network of friends and colleagues. Consider your LinkedIn network. You can build out your LinkedIn profile to begin to garner interest in what you have to offer.
You can also participate in freelance marketplaces like Fiverr and Upwork. Many other small businesses search for independent contractors to perform services for their online business on these marketplace platforms. They are an excellent way to market your virtual services.
Learn more by taking my free training called, Make Money Doing Something You Love.
Side Hustle for Working Moms – Idea #3
Create a Digital Course
Online courses can be a very lucrative side hustle. To decide on a course topic, you strategically choose an area in which you have knowledge and expertise, where you have achieved results for yourself or for someone else. There are ways to validate your course topic to be certain there is a market demand for your digital course BEFORE you create it. You want to validate your idea before you invest time and energy creating your program.
There are digital courses on everything from watercolor painting, jewelry making, breastfeeding, how to get your child to sleep, how to get your child to eat, how to transition to clean eating, training for a 5K or a half marathon and how to raise chickens.
You'll find courses on losing weight, getting fit, starting a business, healthy cooking, cake decorating, home organization, yoga, houseplant care, Microsoft Excel, how to play the harmonica, and how to make paper flowers! There are more digital courses on how to trade stocks, financial management courses, time management courses, woodworking, house flipping, and how to start an AirBNB business.
When I say the list is endless, I truly mean it is endless.
The digital course and e-learning industry is expected to $374 billion by 2026! Who doesn't want even just a small slice of that?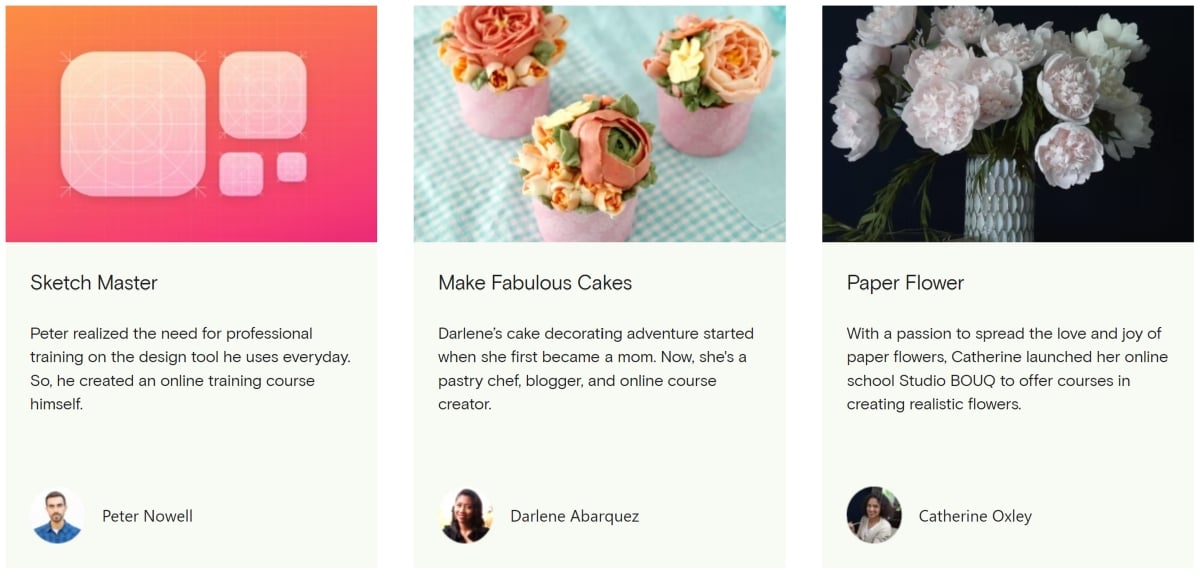 In a digital course business model, creators typically offer a free training via a workshop, webinar, or masterclass (all different words that essentially mean the same thing) to teach a small portion of their knowledge to attendees. The goal is to teach enough material to give attendees a quick win and get them interested in your paid course. Throughout the training, you are conveying your knowledge, expertise, your teaching style, and your personality.
At the end of the free webinar (known as a lead magnet), the course creator pitches their paid course to the participants in their free training. There are ways to do the free training live or transition to what's called an evergreen model and use a pre-recorded webinar.
My favorite program for creating and hosting digital courses is Kajabi. I use Kajabi as the software to host my courses, programs, and membership. There are also programs like Teachable, Thinkific, or Kartra, but my recommendation is Kajabi for ease of use and the comprehensive features that Kajabi offers.
Once you've created your digital course, this is a great side hustle for generating passive income. Your digital course becomes a lucrative product in your business that you can sell over and over again. The best part is following the initial investment of time to validate and create your program, you can then scale your sales by using Facebook and Instagram ads. You can sell your course over and over again to customers who will benefit from your knowledge and expertise.
Learn more by taking my free training called, Make Money Doing Something You Love.
Side Hustle for Working Moms – Idea #4
Create a Membership
While digital courses are a good avenue to teach topics that have a defined beginning and ending point, memberships are a great way to teach topics or provide value to customers for topics that don't have a real ending. Examples include personal development…are we ever really done learning and growing as humans?
Another example is after you've started your side hustle or business, you may want ongoing support to grow and scale it. There's no real ending to that either. Yet another example is health and fitness. Following a course about how to lose weight, we might want ongoing support to maintain our new healthy lifestyle.
Memberships are a great way to generate recurring monthly revenue by providing services, coaching, or training on an ongoing basis. In fact, course creators often create and offer a membership for alumni of their courses to provide ongoing support, guidance, and education once students complete their course.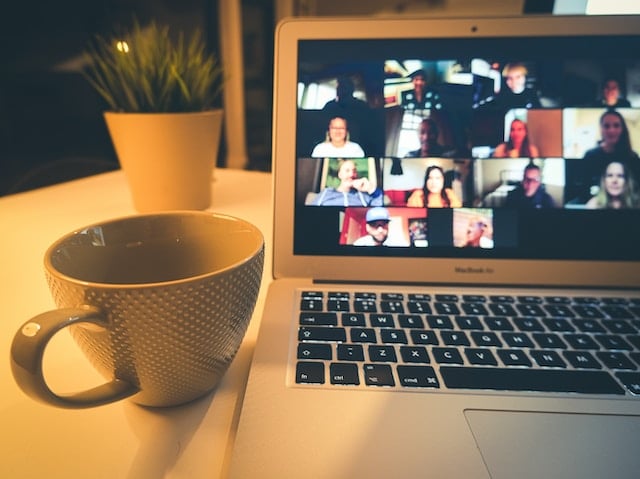 Think about how many companies and services offer memberships for both digital and physical products, as well as services. There are gym memberships, Netflix membeships, and personal development memberships. You can get recurring subscriptions for fashion and styling services (Stitch Fix as an example). There are recurring tackle box subscriptions for avid fishermen, as well as recurring subscriptions for wine clubs or meat delivery services.
Again, the possibilties here are limitless as well.
If you offer a digital course, virtual services, or even physical products, there is a way to strategically create a membership offer around your other product lines.
Learn more by taking my free training called, Make Money Doing Something You Love.
Side Hustle for Working Moms – Idea #5
Provide Coaching Services
There are so many types of coaches in the world these days. Coaches provide their knowledge, guidance, and support to customers and clients in their area of expertise. To name just a few types of coaches, with linked examples of each:
There are many niches and many opportunities to turn your knowledge, skills, and expertise into an offer for coaching services. In many cases, you can use the same knowledge and skills that you use in your day job and package that experience into a coaching offer.
The key to this side hustle idea is to utilize a group coaching model as your primary offer, and reserve one-on-one coaching as a higher paid service.
Remember, in all of these side hustles, you do NOT want to trade your time for money anymore. That's a "traditional employee" way of thinking.
Instead, you want to design your side hustle business so that it is scalable. To be scalable, you want to be able to earn increasing amounts of money for your services, but not by trading hours for dollars.
In a group coaching model, you develop a program that allow participants to not only learn from you, but also benefit from the value of a community of like-minded people all gathered together in pursuit of the same type of learning and growth.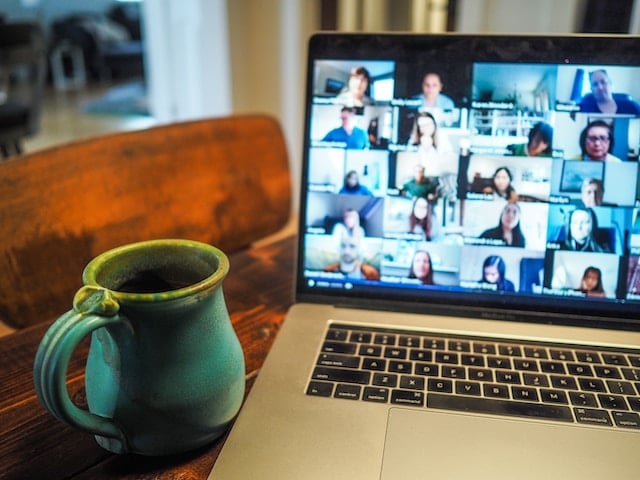 It's a win-win solution. You provide your coaching services in a "one-to-many" group model, where many clients come together virtually (over Zoom for example) a couple of times per month (or however you design your program), and they learn and grow together. Participants feel a sense of community and connection, all while you provide your services to many people at the same time! Essentially, you are not capping your services by the number of hours you want to work, but instead you can infinitely scale your coaching services using a group coaching model.
Learn more by taking my free training called, Make Money Doing Something You Love.
Side Hustle for Working Moms – Idea #6
Open an E-commerce Store
It's actually not quite as hard as it sounds. I mean it's not a total piece of cake and doesn't happen overnight, but it's totally possible to create an online shop even as a side hustle at first. The key to opening an online store is to use a scalable business model that doesn't involve you using your garage or a spare bedroom for inventory and running to the UPS store to mail shipments to customers.
Instead, consider a print on demand model. Print on demand is a business model that allows you to create designs in a software like Canva or Adobe and print those designs on products. You choose a niche you want to serve with certain products and creative branding.
With print on demand, you partner with companies like Printify, Printful, or Gooten. These companies are print on demand businesses that not only print your designs on your products, but they also handle all of the order fulfillment and shipping logistics.
By "on demand", it means that you are never storing inventory. Instead, a company like Printify prints orders on demand, or when they are ordered by your customers. Not only does this mean no inventory management, but it also means that you never pay for a product until it is ordered by a customer. This is a very low risk, scalable business model that allows you to focus on your creativity in design creation and branding, while leaving the annoying not-so-fun tasks of logistics, order fulfillment, and shipping to your partner company.
Even better, these companies integrate with with e-commerce platforms like Shopify. You can build and host your online store website using Shopify, which also handles customer payments and transactions, and have complete electronic integration with Printify for fulfilling orders.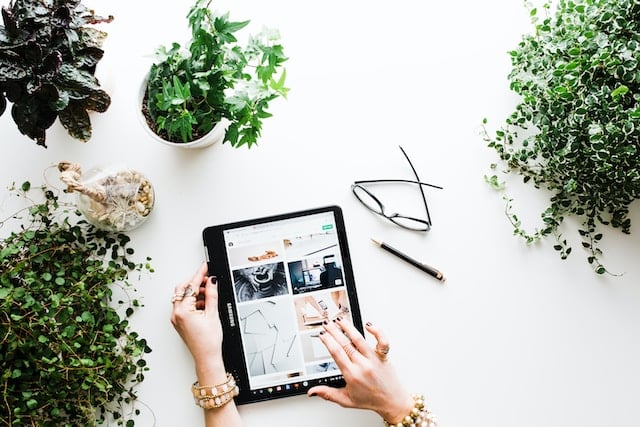 Think about it…
No brick-and-mortar store, no lease or rent payment, no utility costs, no employees, and no standing behind a cash register, or organizing physical products in a traditional store. Instead, let your creativity flow, create beautiful and unique designs, brand your business, and set up shop.
Learn more about a print on demand e-commerce store business model by taking my free training called, Make Money Doing Something You Love.
Start-up Costs for Online Business
The start-up costs in the online business world are significantly lower than for traditional brick and mortar businesses. While the start-up costs for these side hustle ideas are not zero, they are much less than leasing a building, paying utility and other overhead costs, buying equipment and supplies, and hiring several employees.
The main start-up costs for all of these online business side hustle ideas include necessary software programs, education or business coaching to learn the skills you need to be successful, and some legal start-up costs to ensure you are compliant in your business. You want to be sure your side hustle is set up properly.
With lower start-up costs, that means lower risk.
Which of these side hustle ideas is right for you?
Using these online business models, you first can make some extra money, and eventually you can make really good money with time, dedication, and commitment. Over time as your business grows, you can even diversify your revenue streams by using more than just one of these strategies.
These extra income ideas can begin as a side hustle, but can be grown and scaled into your own full-time business over time. Beginning as a side hustle is a great way to supplement your income from your day job at first, while laying a solid foundation for transitioning out of your 9-5 at some point if you so choose.
Many people just like you and I have used these strategies to create a life with more flexibility than is offered by most traditional day jobs. Starting your own online business can create financial freedom, time freedom, and work-from-anywhere freedom by beginning with a strategic side hustle.
To hammer this point home – the key is to choose a side hustle idea that doesn't trade your time for money, but rather can grow, scale, and generate passive income over time.
As a busy mom, you can grow your business on your own schedule and at your own pace. You can go as quickly or as slowly as you need to based on your schedule, commitments, and available time. All of these ideas come with flexible hours and can work for stay-at-home moms or working moms.
Essentially, you just need an internet connection and all these business ideas can all be run in the comfort of your own home as a stay-at-home job.
These business ideas can also offer the opportunity to work from anywhere with an internet connection. If you want the flexibility of traveling and working from any location, whether that be your local coffee shop or in St. Lucia, you want to use an online business model. I mean why not, this is our one wild and precious life. We aren't meant to sit in a cubicle for 40 years.
If you want a little extra income in your bank account, or a lot of money in your bank account over time, take this quiz to assess Which Online Business You Should Create. This quiz will point you in the direction to get started andassess how your interests align with these business models.
Calling all of my busy mamas, one (or more) of these Side Hustles for Working Moms are for you.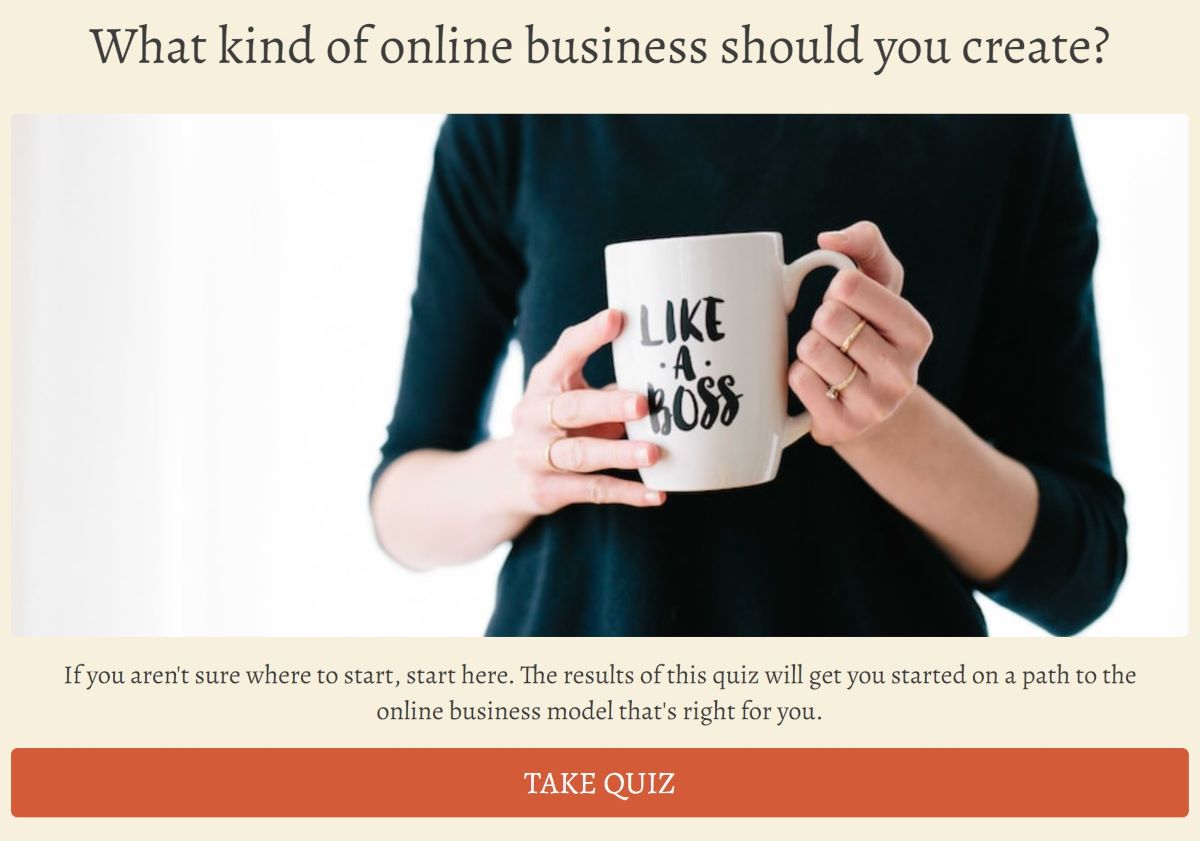 Sign up for my free training called, "Make Money Doing Something You Love" to learn more about each of these money making strategies.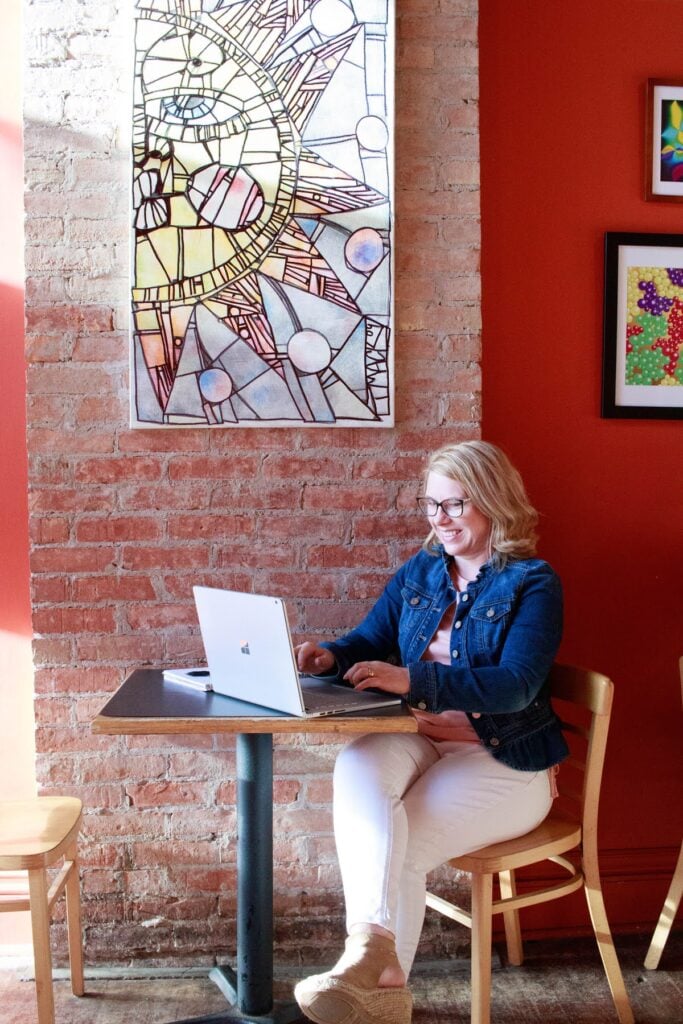 Affiliate Disclaimer-This article contains affiliate links. I only recommend products that I have personal experience with and I genuinely like. If you purchase something through these affilate links, I will earn a small commission at no additional cost to you.