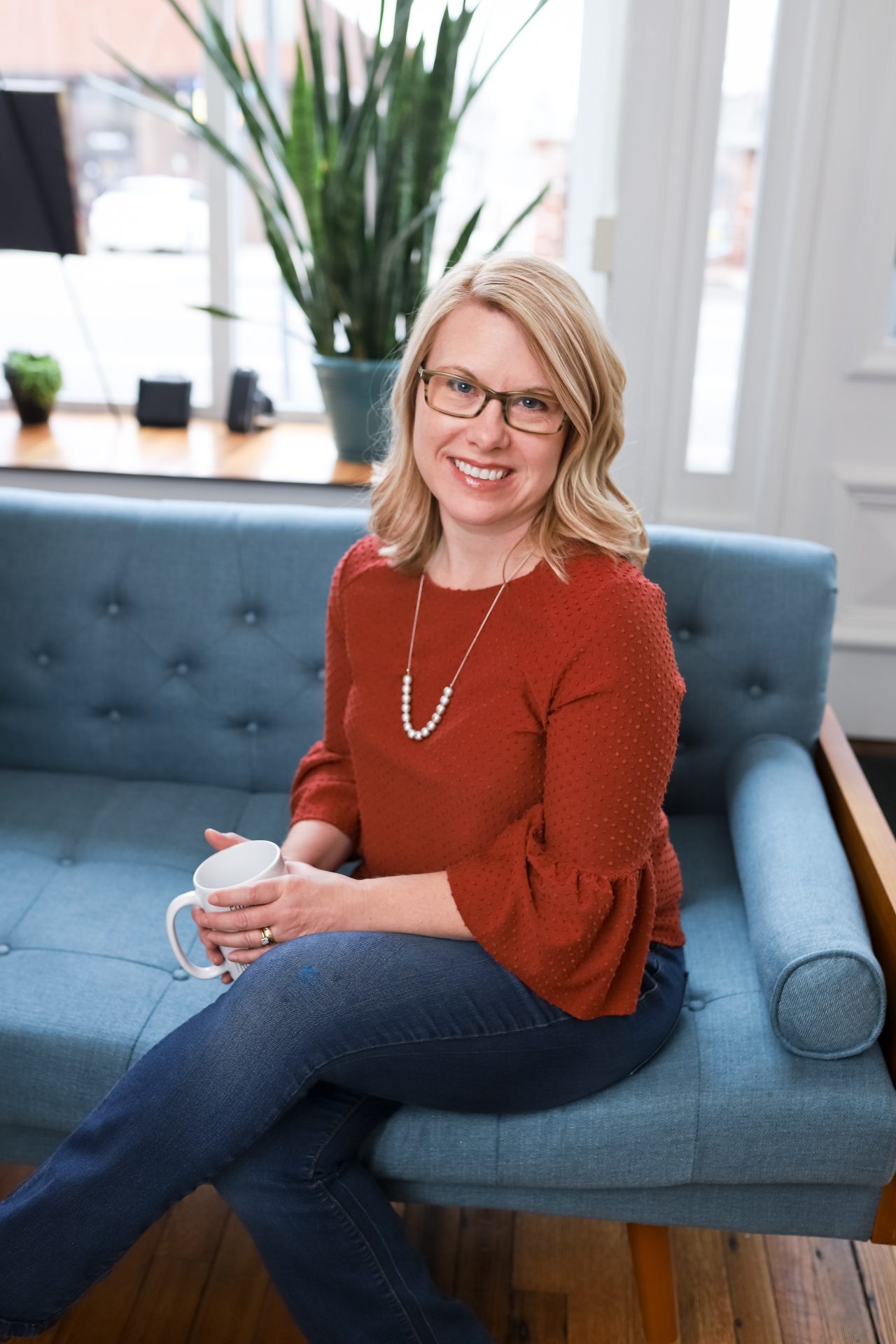 The Why Behind Live Each Day
This creative pursuit called Live Each Day has been a dream of mine for many years. I'm a busy professional with a career in healthcare executive leadership and have 3 beautiful children. While there is a lot of meaning and purpose in my life as a mother and serving others in my mission-driven role in a cancer center, I've always longed to do something more. I have passions that go deeper and feel I have more to share with the world. The requirements of my career and role as a mother oblige me to live within the left-side of my brain – schedules, driving, planning, managing, preparing reports, analyses, meetings, more driving, leading, organizing, communicating, juggling a million things. ALL.THE.THINGS.
I've spent much of my life living in my head on the logical, orderly, ultra-regimented side of my brain. All the while, the creative, imaginative, intuitive, artistic right side of my brain has been fighting for its place in the world. I have dedicated so many years of my life living in my head that I haven't given myself the time, space or freedom to live from my heart. I've decided to take a leap of faith from the practical and pragmatic toward the liberation of creative pursuits. How I neglected my passion for creativity for so many years is beyond me. I suppose you discover a lot of things in your 40s.
When I listen to busy women in similar situations who are juggling motherhood and/or career, I hear a very similar story. We've lost sight of our deepest dreams, goals and passions. We long for something more meaningful. The hectic pace of our life has kept us from even thinking about what it is that we're longing for. In some moments it may even feel like we've lost ourselves completely and need to find our way back to who we really are, or who we were meant to be before the world got to us.
We've sort of landed here in this place and we're realizing that something is missing. We have been so busy we've silenced this inner voice for fear that it might mean we need to make some major changes in our lives. Then, somewhere in the quiet of our own thoughts, (for those 7 minutes in the day when we can hear ourselves think), there it is again. That voice in our heads and more importantly, that calling in our hearts, we need to do something more. "It was all supposed to be a little more beautiful than this," she said.
With each passing year, it becomes increasingly clear just how short life is. This isn't a dress rehearsal – we truly only get this one life to live however we choose.
As this next chapter unfolds, I am sinking into the wilder side of my heart and the creative side of my mind. On the next leg of this journey in life, I intend to laugh more, worry less, create beautiful things, and more fully live each day. Join me, and I will help you do the same.
What is Live Each Day?
Live Each Day is a women's lifestyle blog providing inspirational content to help us find joy in each day and appreciate the simple pleasures of life. You will find articles on life, relationships, motherhood, food, recipes and healthy living. The blog features content to inspire women to pursue their passions so they can more fully live each day.
Live Each Day is a philosophy that with the right mindset, we can truly live each day, not just survive each day. This will mean something different to all of us based on our own personal passions, desires and goals, but IT IS actually possible to live your dream.
Of course we all have responsibilities and we all go through trials and tribulations during different seasons of our life journey, but the gifts of life and time are precious. Often we are so busy serving our families and others as our top priority, that our own individual hopes, dreams and aspirations get placed on the back burner (perhaps buried even) under the weight of our daily responsibilities. We forget that our dreams matter too. It's never too late, and you're never too old to begin living your dream.
Live Each Day is also a food blog. Why? Because c'mon, who doesn't love food! It's everyone's passion isn't it? The content on the Live Each Day Feed Your Soul food blog is designed to help you prepare and eat healthy meals that fuel and nourish your body. Because let's be real, you have to put meals on the table every single day, even while trying to make time to pursue your passion. As mothers, an enormous amount of our time is spent preparing food for our families. The recipes I provide on Live Each Day Feed Your Soul are intended to nourish your family's health and make meal planning a little easier for you. Love your people, cook them healthy food!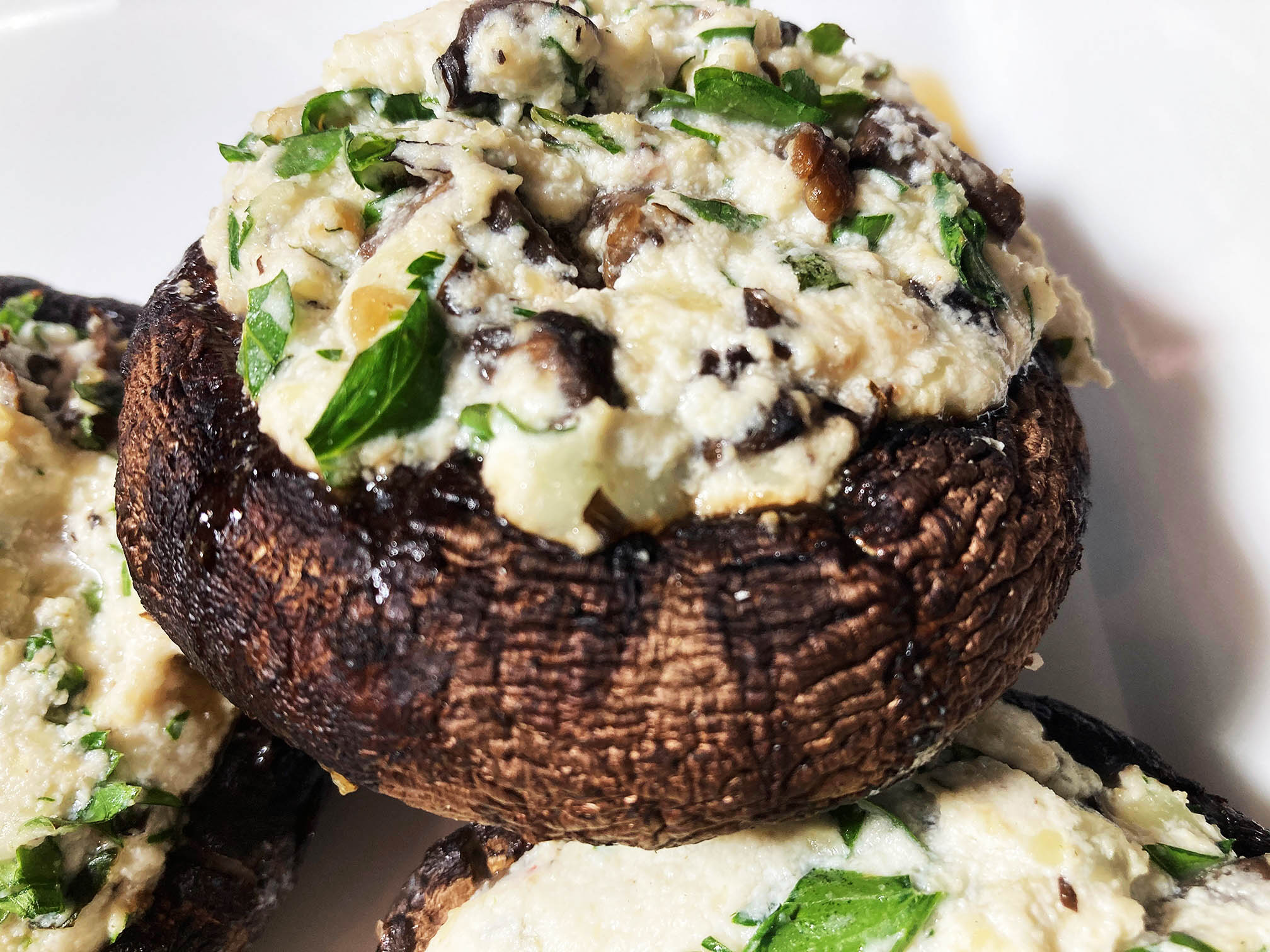 Motherhood is a wild ride. You know what I mean, I know you do. As time passes and we grow in our role as a mother, we also grow and evolve as a person. I will reflect on that evolution in A Mother's Heart with the goal of providing inspiration and reflection on navigating this wild journey called motherhood.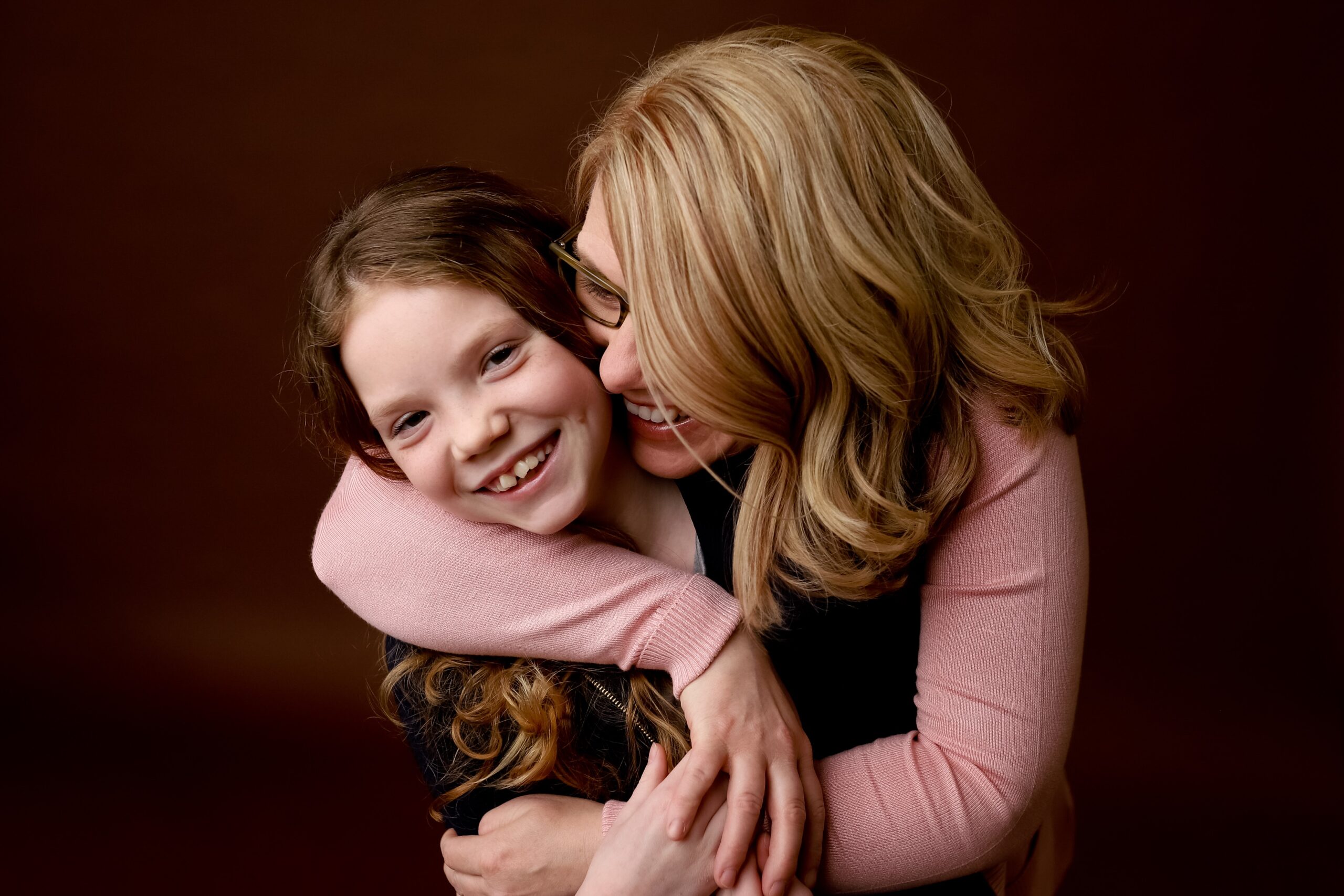 Live Each Day is about finding the courage and inspiration to fully live your passions. It's never too late to pursue a new path for yourself. I sure do hope you will join me because I'm making it my mission to help you discover your truest, deepest aspirations and gain the courage to go out and live them.
All the Small Things is a compilation of the little things in life that help us make the most out of each day – whether that is time-saving life hacks that give us more time back in our day or handy kitchen tools that make meal preparation quicker and easier.
Living each day is also about noticing and enjoying life's simple pleasures – a warm cup of tea or coffee, an evening walk, connecting with a friend, or taking in the wonders of nature.
Giving to others is a central theme of Live Each Day. Small acts of kindness and small acts of giving can truly change the world, one step at a time. I am committed to paying it forward and hope that Live Each Day can help accomplish that aspiration. A portion of the profit on the Live Each Day Shop will be donated to charities that help others in need to live each day.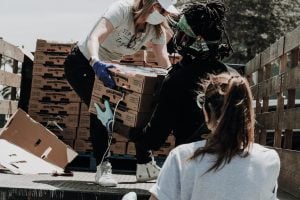 I'm having so much fun – the time of my life actually – creating inspirational designs for the Live Each Day Shop.
Who doesn't love inspirational apparel? Products in the shop include clothing for women and children including t-shirts, sweatshirts, leggings, hats and other items.
The Live Each Day Shop also offers home goods such as pillows, aprons, kitchen towels, coffee mugs, wine tumblers, water bottles and other home items.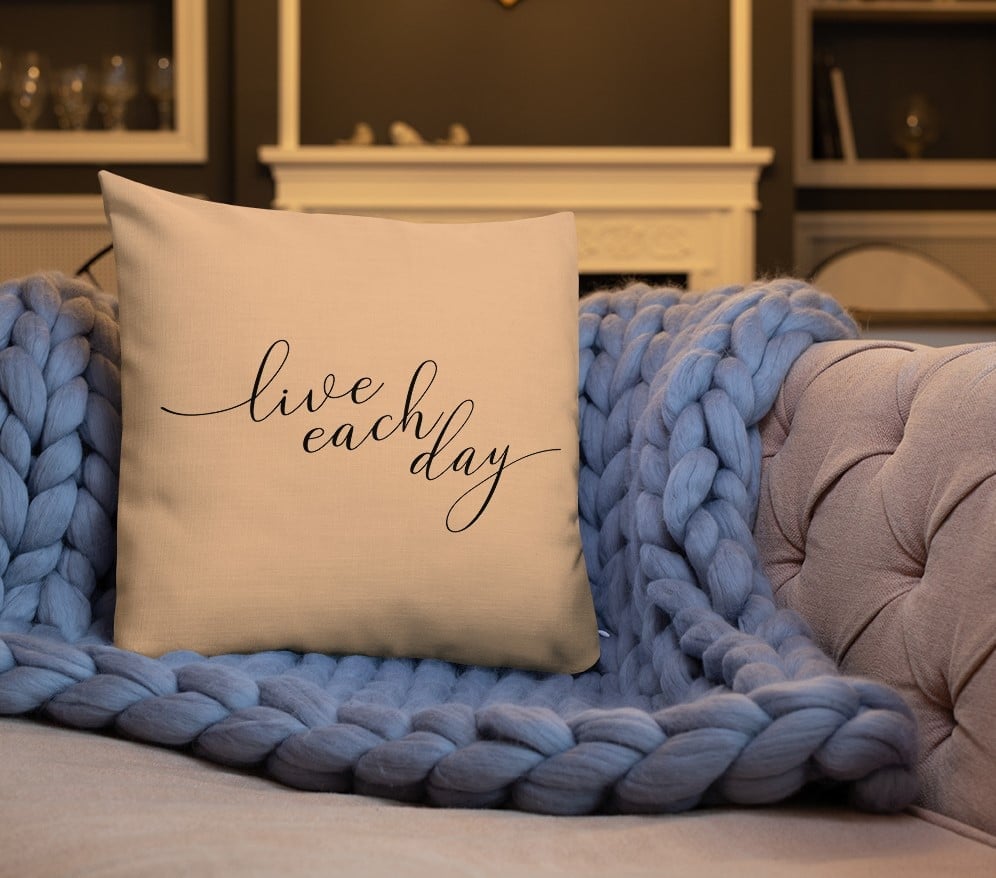 A line of stationary including journals, notebooks and greeting cards are available on the store. There's also a line of greeting cards with watercolor designs I've painted for you.
An extra special line of greeting cards called By Kids for Kids highlights children's artistic designs. This line of cards encourages children to pursue their passions and be kind to each other. My children a big part of this fun creation.
Products offered in the store include beautiful, colorful designs and inspirational messages to serve as reminders to fully live each day.
Check out the store here! I'm having just way too much fun with this – I hope you feel that energy and passion come through in the products.
Even better – every purchase has a purpose. I donate 10% of the profit from each purchase toward important causes.
It's challenging to juggle the demands of life and still make time to pursue your dreams. Actually, it's really hard. But we can do hard things. We do hard things every single day.
To do great things, it takes courage, the right mindset, defined goals and commitment to a clear plan. It takes the right resources, ongoing support, encouragement and accountability. I'm designing courses and a community to help guide you on your path to achieving your goals. Let's do great things together.
The Live Each Day mission is about finding the courage and inspiration to fully live your passions. I started Live Each Day to live my dream and to inspire and support you to live yours.
Enter your name and e-mail to sign up for my newsletter so we can start building a connection.