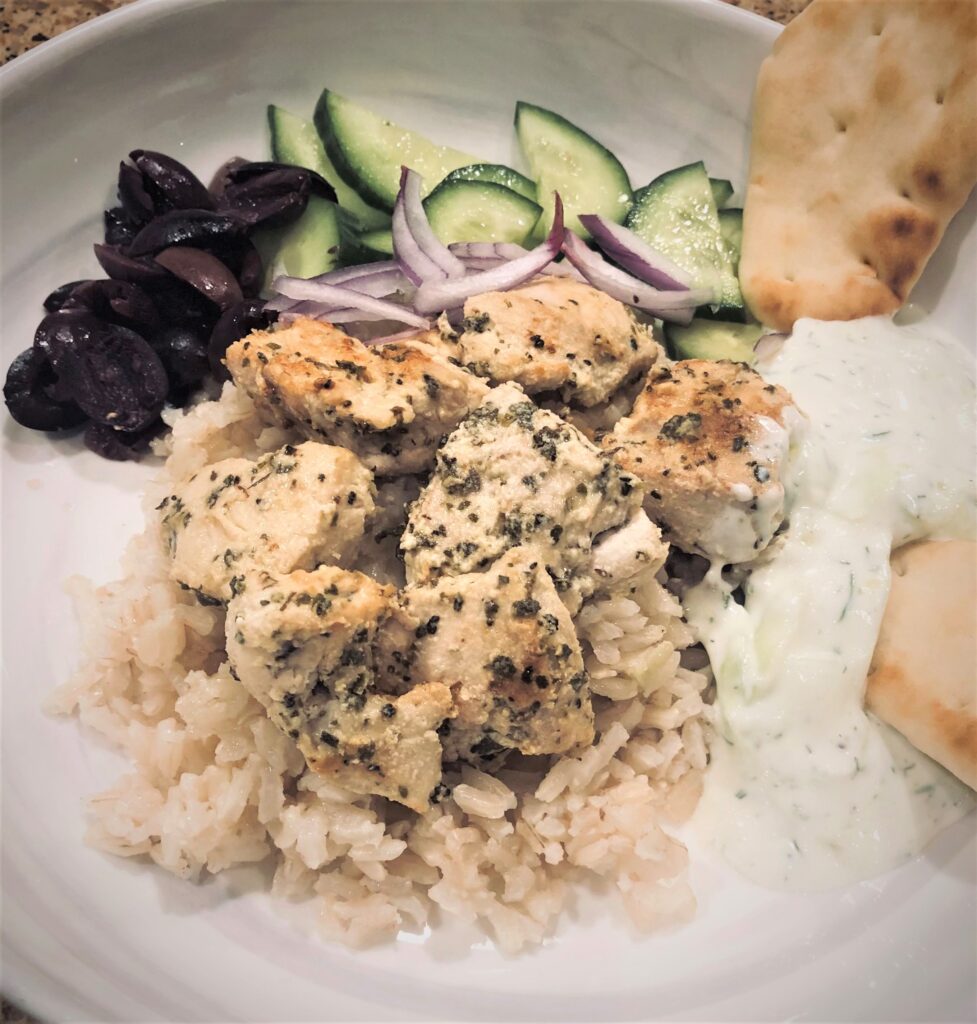 Bowls are one of my favorite meals. There's something so satisfying about the mix of flavors and textures all in one bowl.
Bowls are versatile with endless opportunities for creativity and changing up a mundane dinner rotation. Mix a protein with a healthy grain, some crunchy or roasted vegetables, a delicious sauce and boom, you have a bowl meal. Now choose a trendy fun bowl and dinner is served!
For those of us with kiddos, bowls are a great opportunity to introduce new flavors and foods, while using staple items in the bowl that you know your kids will eat.
Love your people. Cook them healthy food.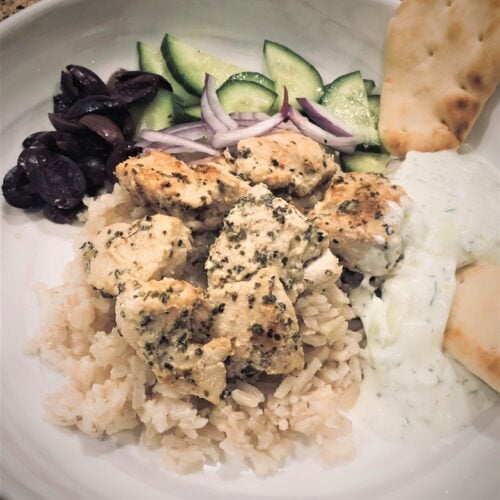 Greek Chicken Bowl with Tzatziki sauce
Ingredients
For the chicken:
1.5

lbs

chicken breast tenders cut into 1-1/2 chunks
2

tbsp

extra virgin olive oil

1/2

cup

plain non-fat Greek yogurt (I love Stonyfield Organic Greek Plain nonfat yogurt – it's my go-to Greek yogurt)

1

Juice from one lemon

1

tbsp

dried oregano

1/2

tsp

kosher salt
For the Tzatziki sauce:
1.5

cups

plain greek Yogurt

2

tbsp

extra virgin olive oil
3

tbsp

fresh lemon juice

1

cup

peeled, shredded seedless cucumber, drained with water squeezed out

1

garlic clove, crushed
2

tbsp

chopped fresh dill (or 1 tablespoon dry dill)

1/2

tsp

kosher salt
Cracked pepper to taste
To complete the bowl:
1.5

cups

brown rice cooked
Sliced and halved English cucumbers
Kalamata olives
Feta cheese
Red onion (optional, only if you like raw onion)
Warm pita bread for dipping into that scrumptious tzatziki sauce
Notes
Directions –
It's best to make the

Tzatziki sauce

ahead of time and refrigerate for at least an hour. I like a lot of fresh dill and for the garlic not to overpower the sauce, but feel free to adjust if you like more garlic or less dill. My kids are crazed about dill, so this works well for the kiddos in my life.
First, marinate the chicken for at least 30 minutes and up to 2 hours.
     

Whisk together the olive oil, yogurt and lemon juice.

     

Add oregano, salt and pepper.

     

Marinate cut-up chicken breast tenders for at least 30 minutes and up to 2 hours.
In the meantime, while the chicken marinates, make the tzatziki sauce.
     

Combine the Greek yogurt with the olive oil, lemon juice, garlic, dill, salt and pepper.

     

Peel the cucumber. Using a shredder or peeler,

 shred the cucumber into a separate bowl. Once shred, squeeze the water out of the cucumber with a paper towel before combining with the yogurt mixture.

     

Mix together, cover and refrigerate for an hour or more.
Make the brown rice (this step takes about 35 minutes.)
Cook the chicken. 
Discard the marinade. Saute the chicken in a fry pan
 for approximately 15 minutes until the chicken has reached an internal temperature of 165.
While the chicken cooks, get the other bowl ingredients ready.
     

Slice and halve the cucumbers.

     

Thinly slice the red onion if using.

     

Wrap pita bread in foil and warm in oven (350 degrees for 10 minutes right before serving).
Put the masterpiece together.  Begin with brown rice then top it with the chicken, sliced cucumbers, olives, feta cheese, red onion (if using).  Put a dollop of tzatziki sauce on top and serve with warm pita bread.  Savor every bite! Love your people, cook them healthy food!
Nutrition Facts
Greek Chicken Bowl with Tzatziki sauce
Amount per Serving
% Daily Value*
* Percent Daily Values are based on a 2000 calorie diet.