What to pack for kids' lunch? The never-ending question. Packing kids' school lunches is such a thing. Like.a.whole.entire.thing.
I start off strong at the beginning of the school year and by May I never want to see another lunchbox for as long as I live. In those moments, "are you sure you don't want to buy?" is on the tip of my tongue.
I created this list of kids school lunch ideas for those times when you have no idea what to pack for your kid's lunch and you're ready to throw the lunchbox out the window. Let me help you avoid that and see if we can simplify this whole thing.
In all seriousness, it has always been really important to me to pack my kids nutritious lunches. So although I do want to throw the lunchboxes out the window by the end of the school year, I've made packing healthy lunches a priority for my family.
What to Pack for Kids Lunch
The formula is a main course item that includes a protein and can be either leftovers from a recent night's dinner or a dish that is prepped ahead of time, plus 1 or 2 fresh fruits, plus 1 or 2 fresh crisp veggies, plus something easy. That's it. That.is.all.folks. Don't overcomplicate this. You can include healthy foods in all the food groups and still keep it simple.
It's possible to pack a healthy, nutritious lunch for your kids that is mostly homemade without decorating everything in the lunchbox or making bumblees and butterflies out of each food item. Bless your heart if you have time to do that. I do not. Balanced meals for lunch do not have to be complicated.
Just a Little Prep
I think there are zero moms on planet Earth that have time to dedicate an entire day to meal prep. So that means we need to work smarter, not harder. I have a simple formula that I use to pull this off for 3 kids on a daily basis without putting in hours and hours of prep time. No one has time for that. This formula requires just a little prep.
What to Pack for Kids Lunch – The Simple Formula
The formula is a main course item that includes a protein and can be either leftovers from a recent night's dinner or a dish that is prepped ahead of time, plus 1 or 2 fresh fruits, plus 1 or 2 fresh crisp veggies, plus something easy. That's it. That.is.all.folks. Don't overcomplicate this.
It's possible to pack healthy, nutritious, mostly homemade lunches for your kids without decorating everything in the lunchbox or making bumblees and butterflies out of each food item. Bless your heart if you have time to do that. I do not.
The Simple Formula = MAIN COURSE + FRESH FRUIT + FRESH VEGGIE + SOMETHING EASY
Healthy Lunch Ideas for the Main Course
The main course is either something you prepare ahead of time, leftovers or repurposed leftovers.
Repurposed leftovers means that you use something from a previous meal and make it into a different dish. It is an important hack in being able to efficiently make healthy school lunches for your kids. Examples of repurposed leftovers include using grilled chicken or steak from a dinner to make quesadillas, wraps, or chicken salad. You can also simply use a leftover protein to top a green salad.
Whenever grilling or preparing a protein for dinner, I simply cook extra and then when I'm cleaning up after dinner, I slice it up and store it in a glass container for use during the week in the kids school lunches.
Main Course Ideas
Ham or turkey and cheese roll-ups
BLT wrap
Turkey, bacon, cheese wrap
Wraps of any kind (Italian, chicken salad, tuna salad, egg salad, any deli meat, roast chicken, BLT, taco, pizza)
Flatbread pizzas
Pickle pizza (a fan favorite at my house – recipe coming soon)
Homemade chicken tenders or chicken nuggets
Pizza rolls
Quesadillas (chicken, steak, ground beef, ham, pizza)
Tacos
Grilled chicken
Grilled cheese sandwich
Mini sandwich bites
Soups
Pasta salad (of any variety your kids like)
Meatballs
Hard boiled eggs
Pancakes (think breakfast for lunch)
Waffles (think breakfast for lunch)
Egg salad
Tuna salad (if your kids like tuna, try this recipe without mayo)
Panini sandwiches
Turkey bacon or regular bacon
Chicken sausage
Salads – any variety your child likes, add protein (grilled chicken or steak, hard-boiled egg, garbanzo beans, cheese, etc)
Apple peanut butter sandwiches or apple almond butter sandwiches
Pita sandwiches
Leftovers from a recent meal that your child loves (think heat it up and put it in a thermos)
Fresh Fruit
I always include at least one fresh fruit and sometimes two. Use your fruit selections to add in color and as many vitamins and nutrients as possible. I choose fruits that are in season, fresh and ripe. I typically choose organic fruits when possible, especially those that are on the Dirty Dozen list. The Dirty Dozen list is updated annually – be sure to stay up-to-date each year as the list changes.
Many fruits can be prepped ahead of time without taking too much time. If you wash and/or cut a couple fruits ahead of time, it makes the mornings easier.
Some fruits like kiwi, strawberries, peaches, pears and nectarines are best to be cut in the morning. Many of these fruits tend to get mushy if they sit too long.
Apples will brown if sliced too soon. As a trick to solve this, you can squeeze a little lemon juice on the sliced apples after slicing in the morning. I use organic honeycrisp apples, as they do not brown quickly. They stay crisp and fresh after being sliced and my kids love them.
Fresh Fruit Ideas
Fresh cut pineapple
Canteloupe
Watermelon
Grapes
Blueberries
Raspberries
Blackberries
Mangos
Oranges
Banana
Kiwi
Apples
Strawberries
Peaches
Pears
Nectarines
Applesauce
Fresh Veggies
I fully understand that this can be tough with some kids. Some of my kids love crunchy fresh veggies but I have one child that will not eat more than 2 kinds of vegetables. I don't stop trying though. Add hummus or a healthy dip (homemade or store bought) if that helps your child to enjoy fresh veggies.
Be sure to review the most up-to-date Dirty Dozen List for veggies too and try to select organic produce for any items on this list.
Almost all veggies can be prepped ahead of time and stored in a glass container in the refrigerator.
Fresh Veggie Ideas
Carrot sticks or baby carrots with ranch dressing
Sliced cucumbers
Cucumber Tzatziki salad
Sliced bell peppers
Celery sticks
Celery with peanut butter
Snap peas or snow peas
Broccoli (cooked or raw)
Cauliflower (cooked or raw)
Broccoli salad
Pasta salad full of fresh crunchy veggies
Leftover roasted potatoes
Cherry tomatoes
Edamame
A fresh green salad (get creative here if your child is adventurous)
Something Easy
Keep it simple – throw it in the lunchbox. For real. Let it be easy.
This is also a great way to have your kids try new foods in a low risk way. Put a small portion of something new in the lunch box and you can easily experiment with first time new foods.
Easy Ideas
Applesauce squeeze pouch
Stonyfield organic yogurt pouch
Stonyfield organic yogurt with mix-ins (granola, berries, chocolate chips or cocoa nibs, pomegranate arils)
Cheese cubes
Cheese sticks
Whole grain crackers
Whole grain pretzels
Popcorn
Energy bites (recipe on its way soon)
Dried fruit
Something Special
This is the only-if-you-have-the-time item. This is something special for a reason – it's a special treat. These are things like homemade muffins, homemade cookies, homemade energy bites, etc.
I always include these items on the first day of school, the last day of school, birthdays, holidays and occasionally if I have time to bake on the weekend.
If you have no time for baking, toss in a piece of dark chocolate, some chocolate chips, or a few chocolate-covered peanuts and the kids are just as happy!
School Lunch Box Products
Having the right products to easily assemble kids school lunches is the last key ingredient for simplifying this process. There are a few items that I truly cannot live without. They make all the difference in streamlining school lunch packing.
My absolute favorite kids' lunch boxes come from Planetbox. They are stainless steel bento boxes that are just SO easy to use. The kiddos can open only one item and have all their foods in one easy-to-open container.
I find this approach to be the best way for my chatty little eaters to actually eat because they don't have to open 3-4 separate tupperware containers, with the high likelihood of having them return unopened (and uneaten) at the end of the schoool day. It also avoids using a bunch of plastic sandwich bags.
Planetbox lunchboxes have a lunch bag carrier that the stainless steel bento lunchbox goes inside. You can slip an ice pack in the pocket and done! Planetbox even has magnets with fun designs.
Even though the initial investment in a Planetbox is a little more pricy, you can re-use the stainless steel lunch box every year and only buy new magnets for about $4.00 each year thereafter. If you keep the carrier case clean, that can even last for 2-3 years. You will probably find this product is less costly through the years vs. buying a new lunch box every single school year.
Another aspect of these lunch boxes that is amazing – at the end of the day, you can simply put the one-piece product in the dishwasher. Super easy!
Pair your Planetbox with a food thermos for items you want to keep warm and you will be well-equipped for packing lunch. Here are my recommendations.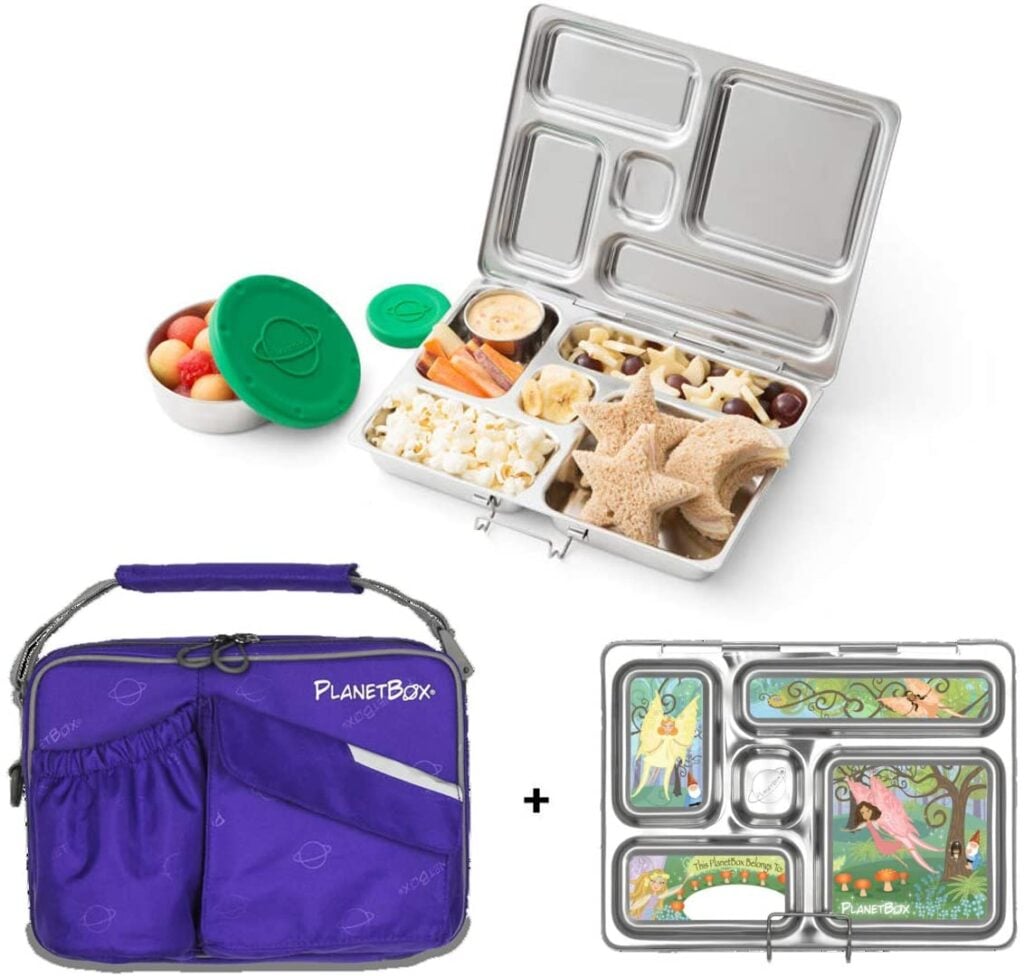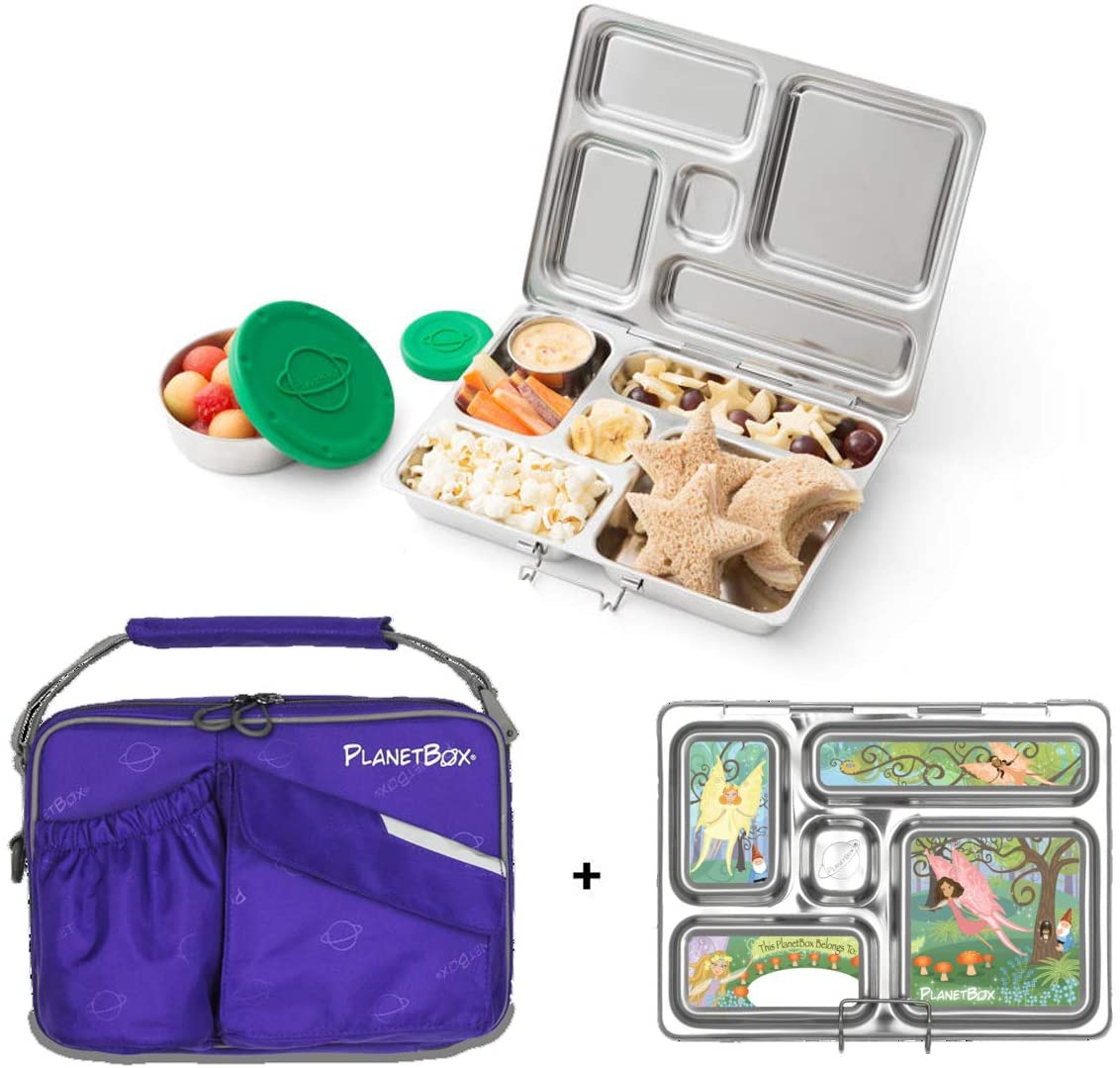 I truly cannot live without this one. You will see in the gallery that nearly all of my kids school lunches are packed in this lunchbox.
It's ideal for slow eaters (every one of my kids) because they only have to open one container, not several. It is made of stainless steel so it help keeps food cold all day. There is a place for an icepack and silverware within the sleeve of the lunchbox bag.
As a bonus, you can simply put it in the dishwasher each night.
As on more added bonus, you buy this thing once and then you can let the kids make it new each year by picking out different magnets for only about $4.00. You can also select the bag color and buy those separately if they get worn over time. It's a great investment if you pack lunches every day.
There are also other styles that fit a glass container for heating up food in the cafeteria if allowed. This one is called the Launch. You can purchase a glass dish and cover that fits in the large compartment.
All of the great features of the Rover style above are also true for the Launch model.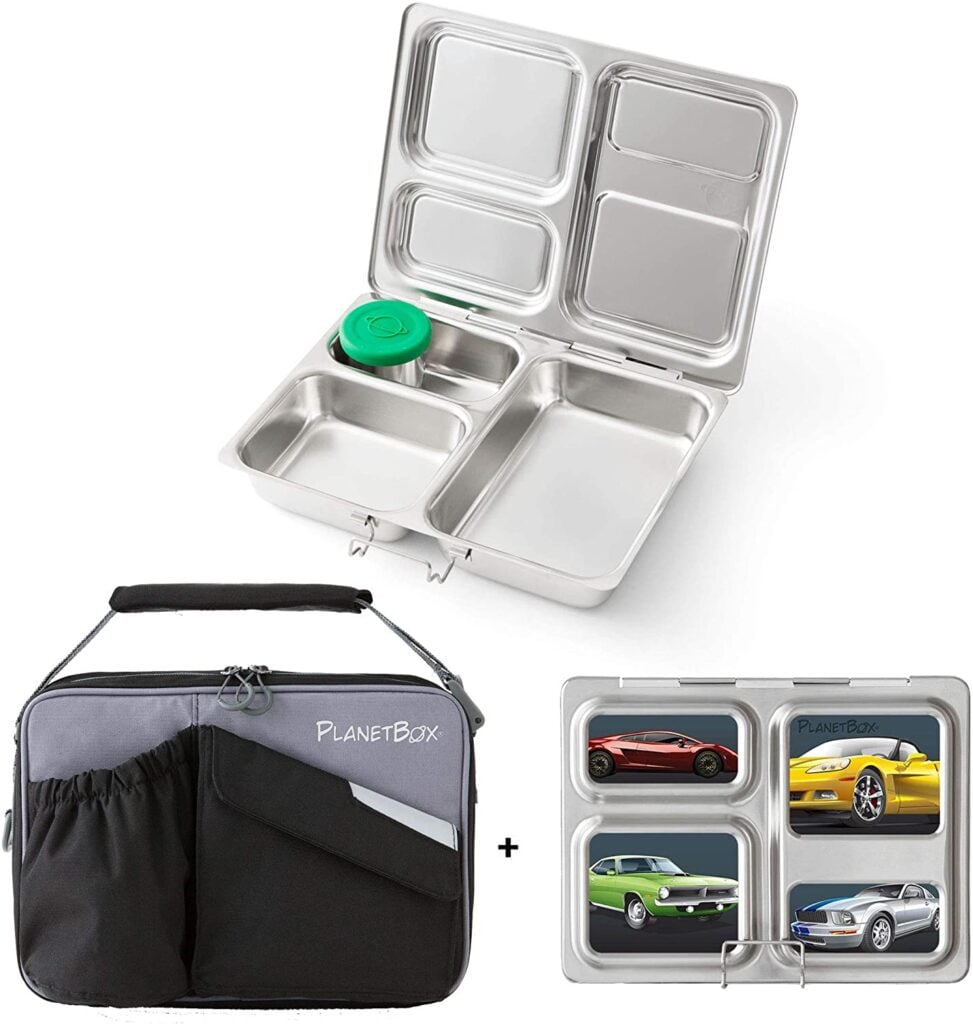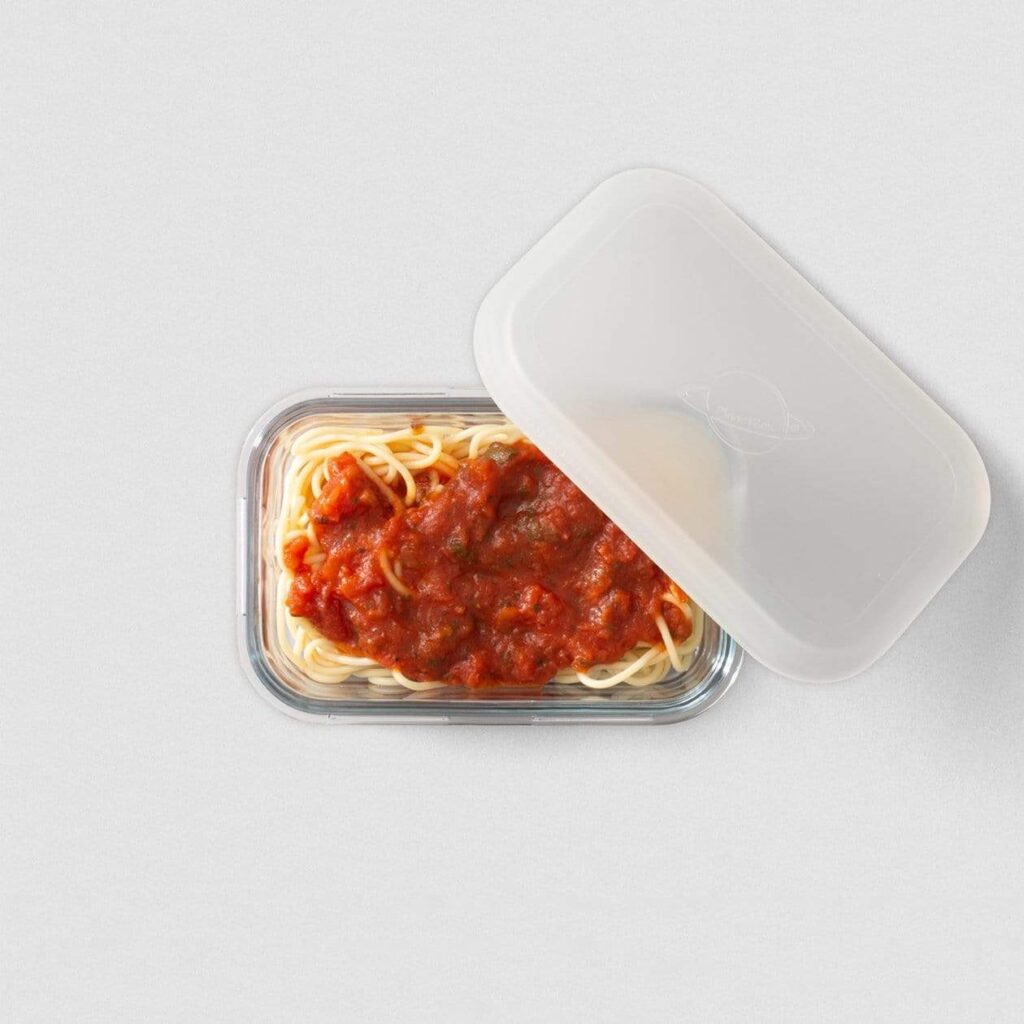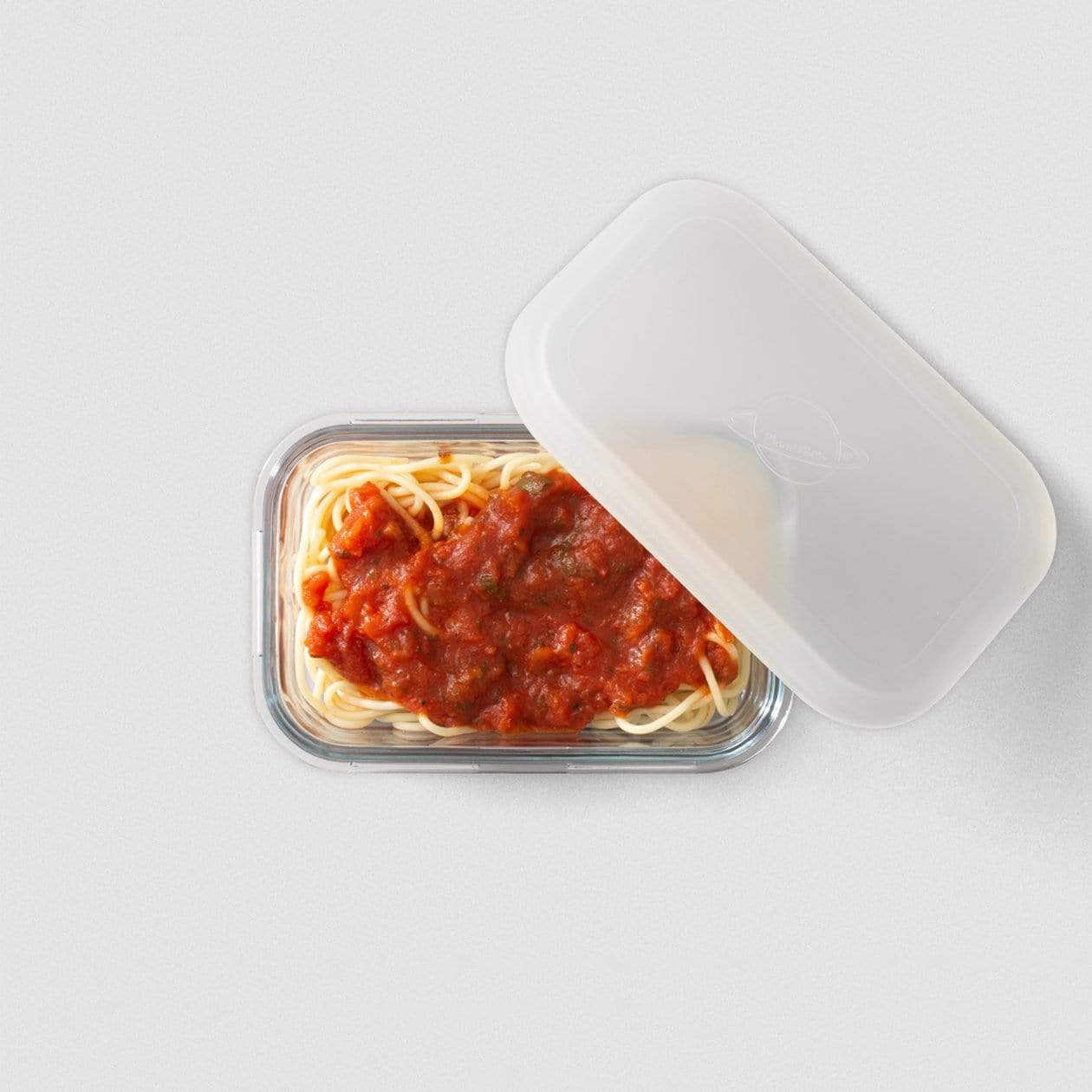 Planetbox Glass Satellite Dish
This glass dish can be used with the Planetbox Launch lunchbox above for serving lunch items that need to be warmed before eating. It's microwave and dishwasher safe and extremely convenient.
THERMOS Stainless Steel, 16-ounce Food Container
About this item
Thermos vacuum insulation keeps food hot for 9 hours or cold for 14
Durable stainless steel interior and exterior
Cool to the touch with hot liquids, sweat proof with cold
Compact and insulated stainless steel serving bowl; full size folding stainless steel spoon included
Wide mouth is easy to fill, eat from and clean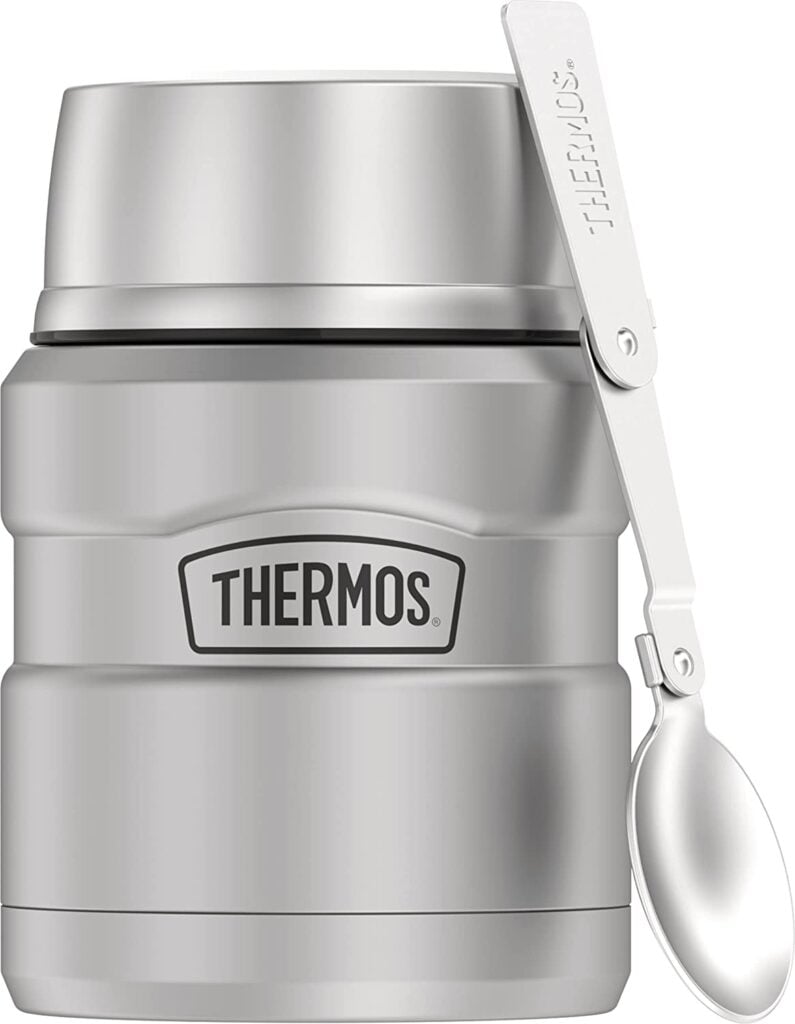 Gallery of Kids School Lunch Ideas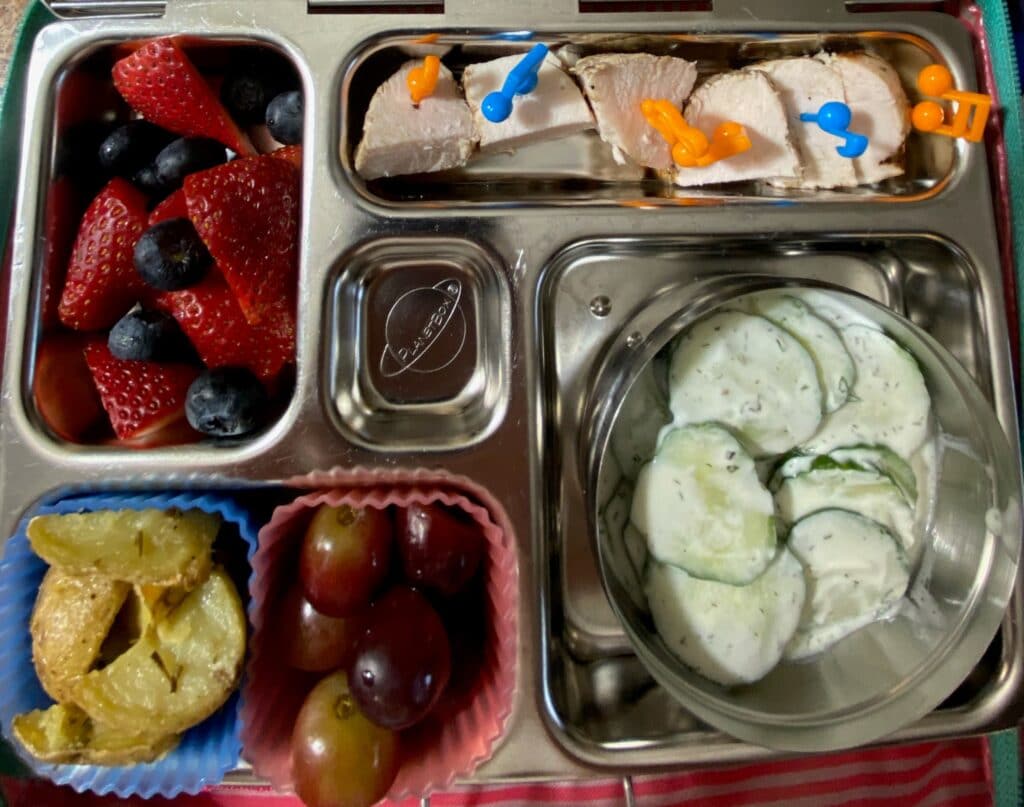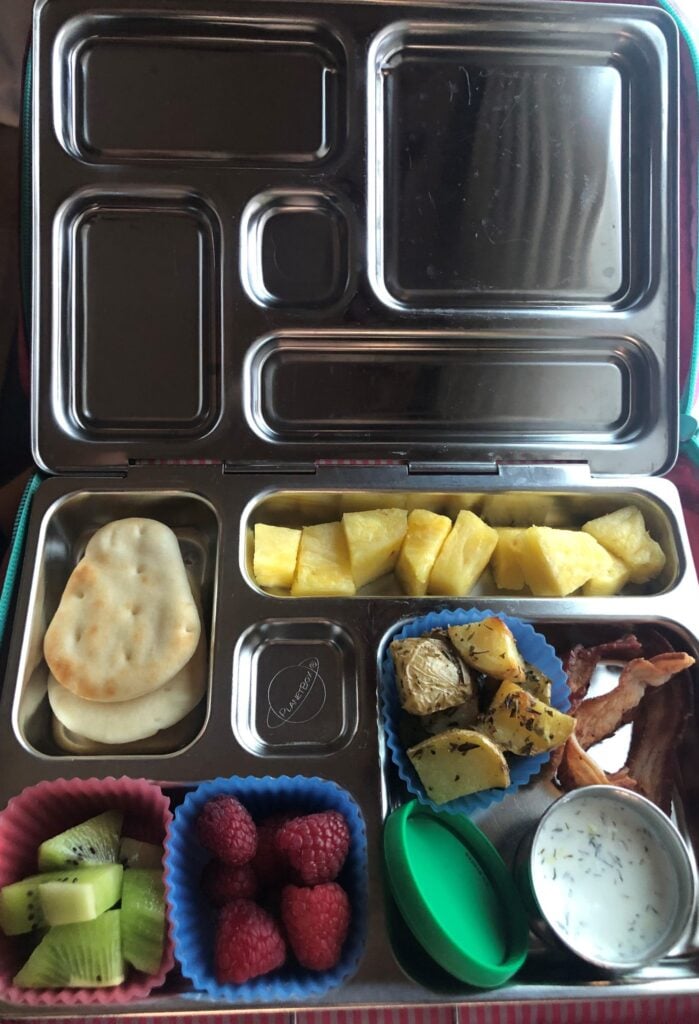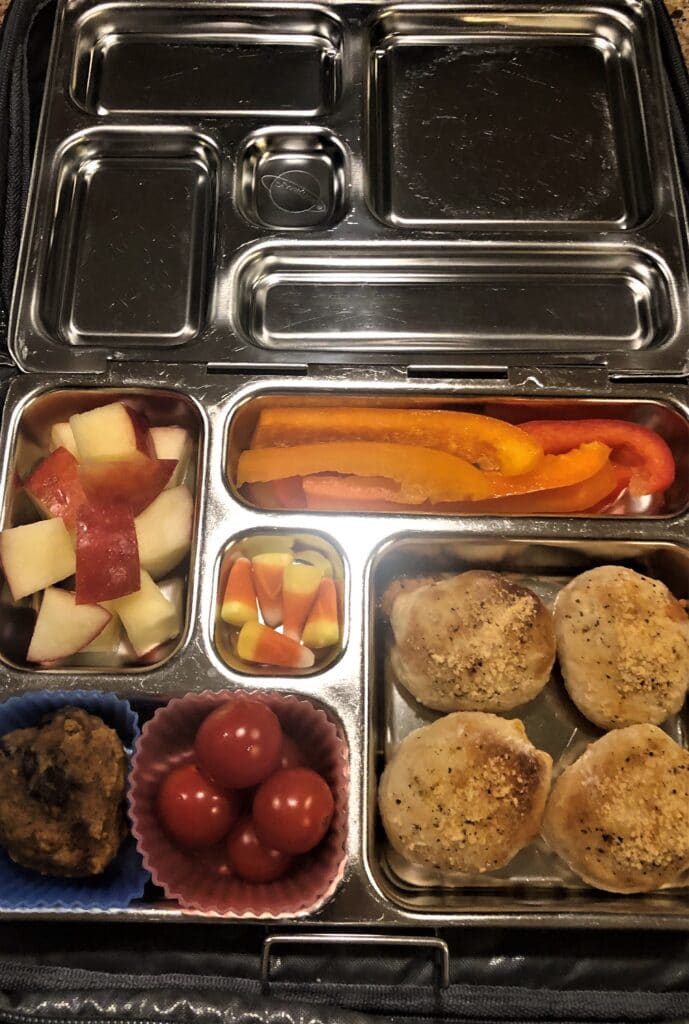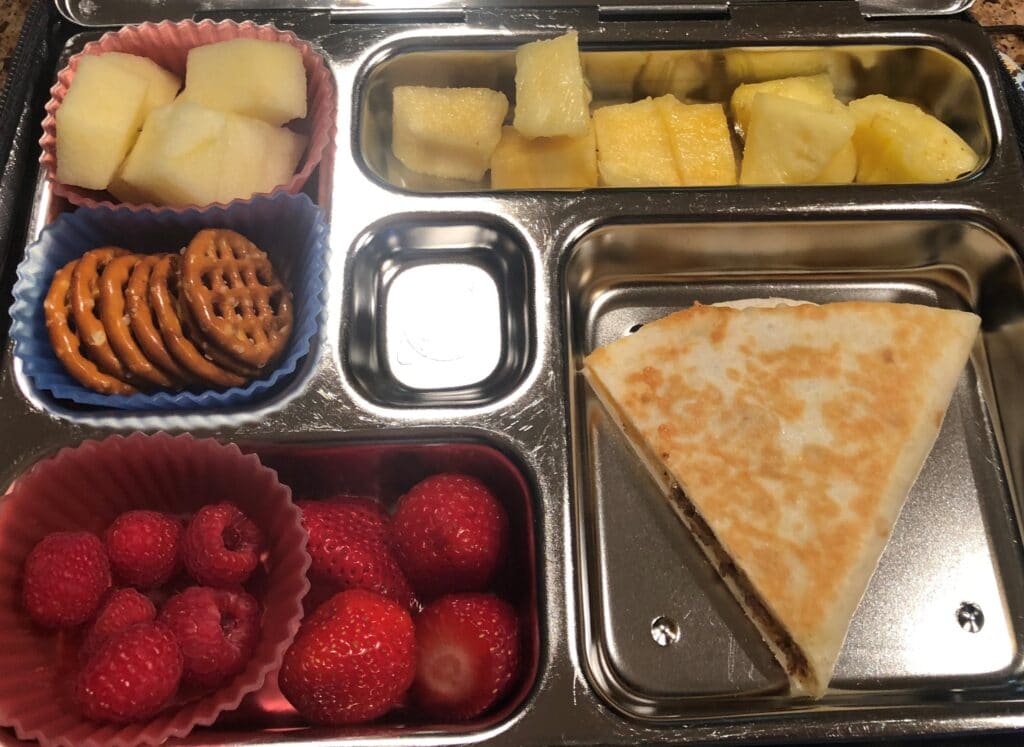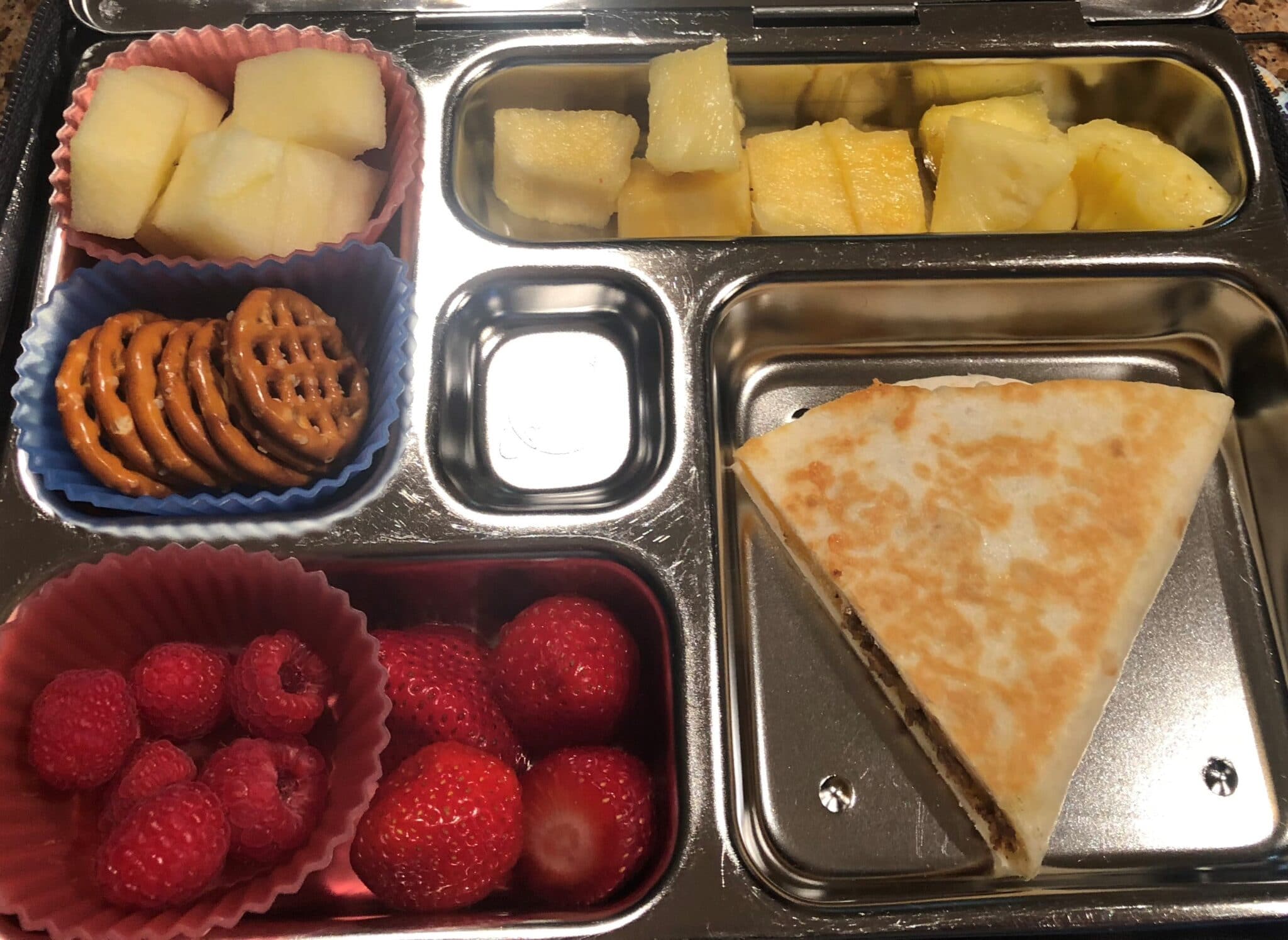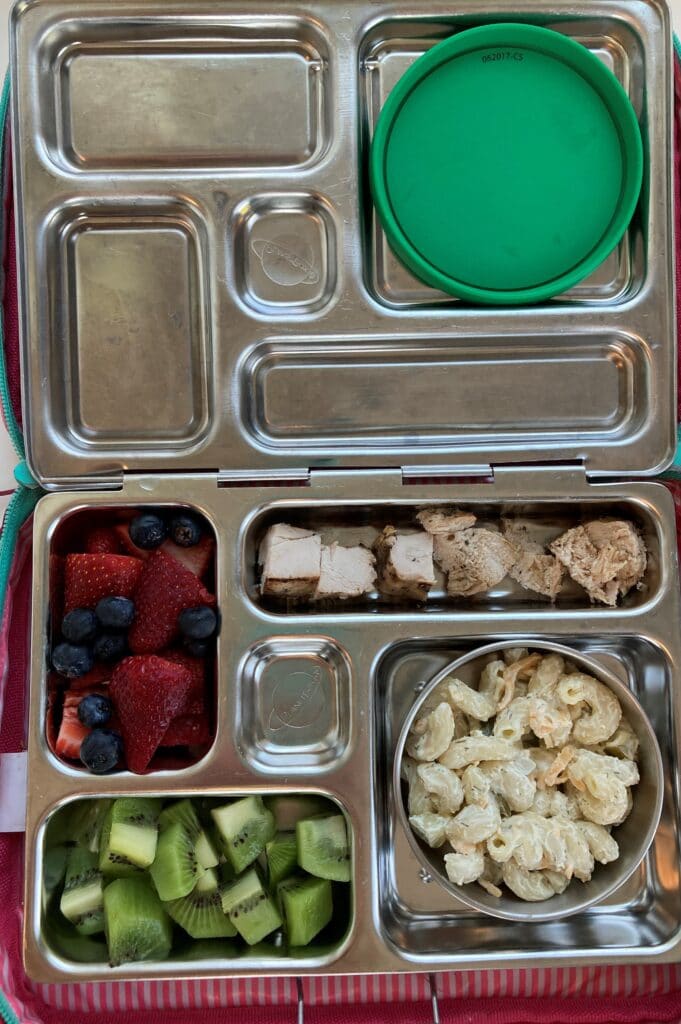 That's a Wrap on What to Pack for Kids Lunch!
There you have it – a healthy school lunch without a lot of fuss. A packed lunch will almost always be more nutritious than a school lunch as long as you stick to the formula above.
Older kids can pack their own lunches and make healthy choices from a variety of options you provide. You can prep a variety of foods in 20 minutes or less on Sunday nights and they can toss the items into their Planetbox. Younger children can assist with the whole process too.
With just a little bit of meal planning, you can avoid the morning rush throughout the school season.
I hope you enjoy these ideas for what to pack for your kids lunch. Happy lunching!
Check out more recipes here at Live Each Day Feed Your Soul.
Affiliate Disclaimer-This article contains affiliate links. I only recommend products I genuinely like and use. If you purchase something through these affiliate links, I will earn a small commission at no additional cost to you. Thank you for supporting the products and brands that allow Live Each Day to continue providing free content.