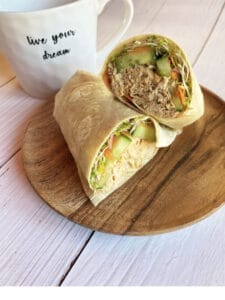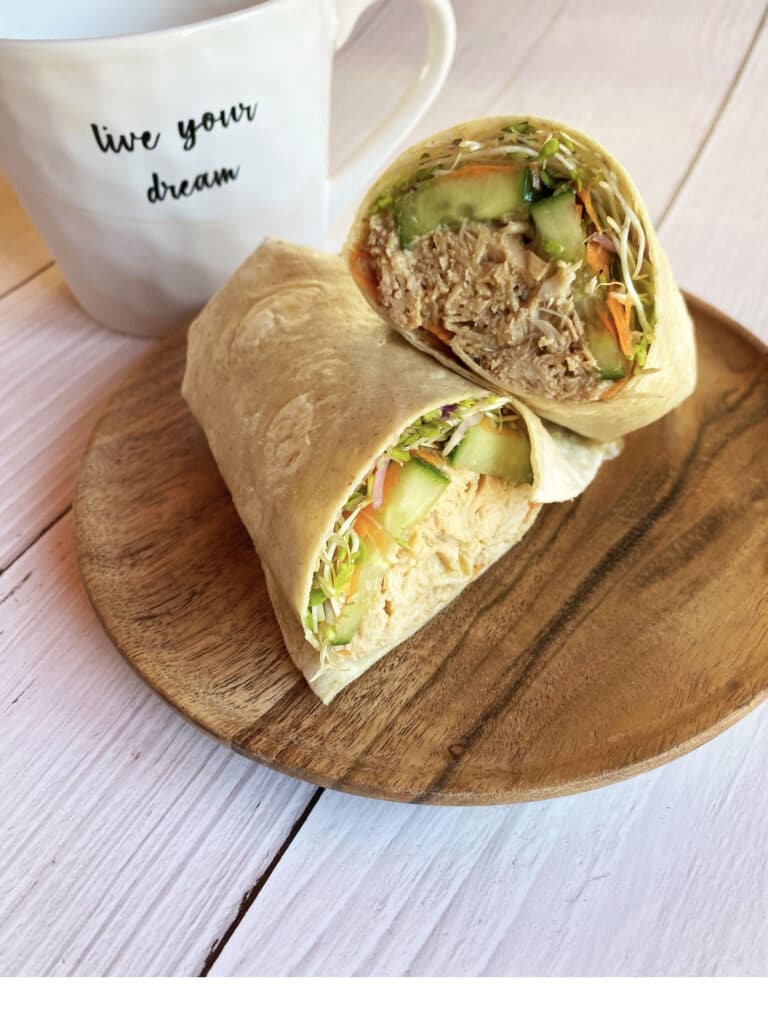 If you are looking for a light lunch, this simple tuna salad recipe is a great option. This is not your traditional tuna salad. While classic tuna salad is typically fully of mayonnaise, tuna salad does not need to be loaded with mayo. Mayonnaise-based tuna salad is the tuna fish of yester years. This lighter version without mayonnaise is dressed instead with a homemade balsamic vinaigrette salad dressing that adds flavor and zest to your midday meal. With just a few basic ingredients – pantry staples like extra virgin olive oil, balsamic vinegar, and raw honey, and some fresh lemon juice, you can create a healthy, easy lunch. You whisk together those four basic ingredients in a small bowl, creating a simple vinaigrette. Mix tuna with the vinaigrette. The balsamic vinegar and lemon juice adds great flavor and voila – a healthy tuna salad recipe without mayonnaise!
Tuna is a great source of lean protein and healthy fats to keep you full and satisfied until dinner and avoid the midday slump. I typically use solid white albacore tuna in water. I recommend Wild Planet wild caught solid white albacore tuna in water – it's my favorite kind of tuna. Then layer in texture with crunchy veggies like sprouts, carrots and cucumbers and you've created a veggie forward, healthy and well-balanced meal with crunch, texture and great flavor. Wrap the tuna salad and veggies on a light honey wheat wrap and you have the perfect lunch!  If you are aiming for a low carb meal, you could substitute a lettuce wrap for the honey wheat flour wrap.
Wild Planet is one of my favorite tuna brands. Wild Planet albacore tuna steaks are wild caught and then hand-cut and hand-packed. Their brand uses no added water so there is nothing to drain, leaving the fish with a firm but tender texture. A few nutrition facts – tuna fish is loaded with Omega-3 fatty acids and packs a solid punch of protein and has low mercury levels. Each 3oz serving has 21g of protein and an average of 705mg EPA and DHA Omega-3s – great for your heart health.
This is a great way to prepare lunch ahead if you are heading off to work the next day. Meal prep this easy tuna salad recipe and store in an airtight container. It's an easy, healthy lunch that can be prepared in 10 minutes or less. This is not your average tuna salad recipe, this is next level – you may never return to your mayo tuna salad. Level up your lunch with this easy recipe – enjoy!
For more healthy recipes, check out liveeachday.com/feed-your-soul.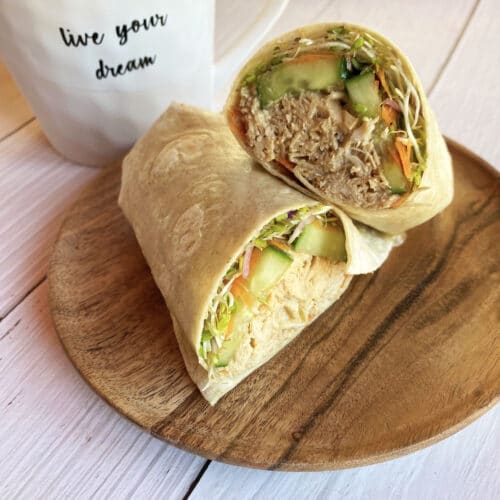 Healthy Balsamic Tuna Salad Recipe (Without Mayonnaise)
Ingredients
1

can

5 ounce of tuna - solid white tuna in water

wild caught

2

tbsp

extra virgin olive oil

1

tbsp

balsamic vinegar

2

tsp

fresh lemon juice

1

quick squeeze of raw honey

couple turns of sea salt grinder

cracked black pepper
For the wrap:
1

honey wheat wrap

organic sprouts

(I used organic clover and radish sprouts)

matchstick or shaved carrots

8

slices

English cucumber, sliced thin

red onion or green onions (optional)
Instructions
Whisk the olive oil, balsamic vinegar, lemon juice and raw honey together.

Combine with the drained tuna and mix together. Season with salt and pepper.

Layer the sprouts, carrots and cucumbers slices on your wrap.

Top the veggies with the balsamic tuna salad.

Wrap it up and enjoy lunch!
Notes
Tip:
For the longest time, my grocery store did not have matchstick carrots. To shave carrots instead, after you finish peeling a carrot using a vegetable peeler, continue using the peeler to thinly shave the carrot onto your wrap.