Earthy classic Moroccan flavors – a mix of cumin, coriander, cinnamon, turmeric and ginger – are used here in perfect proportion to create an aromatic stew that is sure to feed your soul. Your house will smell amazing as it's simmering on the stovetop. This stew is comforting, earthy and soul nourishing on a drizzly rainy or cold winter's day.
The first time I made this dish, I fell in love. Deeply in love. I still remember the first time I tried Moroccan flavors. I was in high school on my senior trip at Disneyland in "Morocco" at Epcot. I was with my fellow teenage friends and full of joy, youth and inexperience with food. The combination of flavors were unlike anything I had experienced before. Fast forward many (many, many) years later and a Moroccan chicken stew is simmering on my stovetop for Sunday dinner. This is one of my absolute favorite meals. I've adjusted and readjusted it over the years. It has become a family favorite in my house. My kids devour it.
This is a recipe that works best when you take a little time to prep the ingredients prior to cooking. It just makes the whole process easier and more streamlined.
Don't skip or substitute any of the spices on this one. I've tested this recipe multiple ways. You will want the exact spices in proportion as written in the recipe.
This recipe makes a large batch, enough for 8 servings. Moroccan chicken stew is a perfect one pot dish to serve to guests or to make for a Sunday dinner. If you have a small family, you will have plenty of extra to use the leftovers for lunches or reheating for a leftover dinner during your busy week. You will savor every bite of this meal. Love your people, cook them healthy food!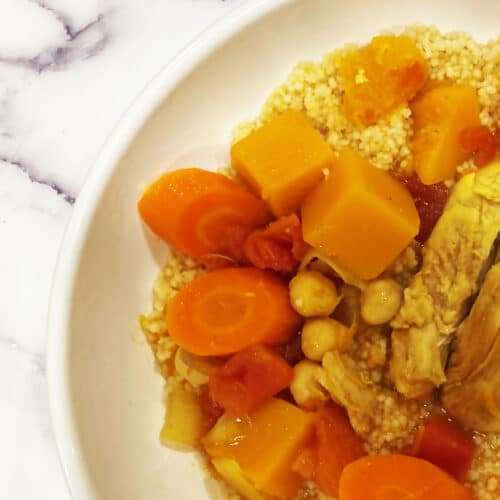 One Pot Moroccan Chicken Stew with Couscous
Equipment
Dutch oven

Prep bowls

High quality kitchen knife
Ingredients
2

tbsp

extra virgin olive oil

2

lbs

chicken thighs

1

onion

cut in 1-inch chunks

2

garlic cloves

minced

2

tsp

cumin

2

tsp

coriander

1.5

tsp

cinnamon

1

tsp

turmeric

1/4

tsp

ground ginger

1/8

tsp

white pepper

1/2

tsp

kosher salt

4

cups

low sodium chicken broth

1

14.5 ounce can of diced tomatoes

3

carrots

bias sliced

2

cups

butternut squash

peeled and cut in 1-inch cubes

1

15.5 ounce can garbanzo beans

drained and rinsed

1

box

cooked plain couscous
Instructions
Prep:
Cut up onion in 1-inch pieces.

Slice carrots, bias sliced in 1-inch pieces.

Cut butternut squash in 1-inch cubes.

Drain garbanzo beans and set aside.

Measure the chicken broth in a glass Pyrex measuring cup.

Measure the spices, combining them in a prep bowl.
Directions:
Heat the olive oil in a 5 quart Dutch oven and once the pan and oil are hot, place the whole chicken thighs in the pot.

Cook the chicken until partially cooked through, approximately 5 minutes per side. The chicken will finish cooking during later steps

Remove the chicken, place on a plate and set aside.

Sauté the onion for 2-3 minutes until tender.

Toss in the garlic and all the spices, stirring continuously for 1 minute.

Add the chicken broth and diced tomatoes.

Return the chicken to the pot and add the carrots.

Bring to a simmer for approximately15-20 minutes until the carrots begin to soften.

Add the butternut squash AFTER the first 15-20 minutes of simmering. Adding the squash too soon will make it mushy. The squash will take only about 7 minutes to cook. They will also continue to cook after removing from the heat.

Add the garbanzo beans and mix together.

Cook the couscous according to package directions in the last 5 minutes after you remove the stew from the heat. Couscous only takes 5 minutes to cook and you will want to let the stew cool for a few minutes before dishing up.
Notes
The nutritional facts provided do not include the couscous. Nutritional information is estimated and provided as a reference and should not be used as a basis for strict diets.
Nutrition Facts
One Pot Moroccan Chicken Stew with Couscous
Amount per Serving
% Daily Value*
* Percent Daily Values are based on a 2000 calorie diet.